Both the Public Sector Undertaking (PSU) and commercial banks observe holidays on public and country- and state-specific holidays. Apart from the mandatory bank holidays on the second and fourth Saturdays, there are several other holidays during which banks are closed. In this article, learn about bank holidays in 2020 and the types of holidays banks observed during the calendar year.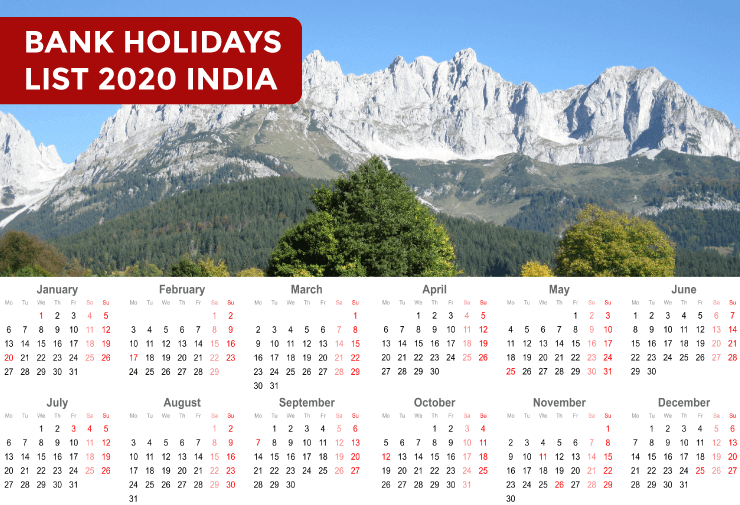 List of Bank Holidays in India 2020
Banks across India, be it public or private sector remain closed on the second and fourth Saturdays while they are also closed on certain festivals, government and local holidays. Below is the list of bank holidays in 2020 in India:

Day
Date
Holiday Name

January 2020

Wednesday
01 January 2020

New Year's Day

Saturday

11 January 2020

Second Saturday
Wednesday
15 January 2020

Pongal

Saturday

25 January 2020

Fourth Saturday

Sunday

26 January 2020

Republic Day
Thursday
30 January 2020

Vasant Panchami

February 2020

Saturday

08 February 2020

Second Saturday
Friday
21 February 2020

Maha Shivaratri

Saturday

22 February 2020

Fourth Saturday

March 2020

Tuesday
10 March 2020

Holi

Saturday

14 March 2020

Second Saturday
Wednesday
25 March 2020

Ugadi

Saturday

28 March 2020

Fourth Saturday

April 2020

Thursday
02 April 2020

Ram Navami
Monday
06 April 2020

Mahavir Jayanti
Friday
10 April 2020

Good Friday

Saturday

11 April 2020

Second Saturday
Tuesday
14 April 2020

Dr. B.R. Ambedkar Jayanti

Saturday

25 April 2020

Fourth Saturday

May 2020

Friday
01 May 2020

May Day
Thursday
07 May 2020

Buddha Purnima

Saturday

09 May 2020

Second Saturday

Saturday

23 May 2020

Fourth Saturday

Sunday

24 May 2020

Eid-ul-Fitr

June 2020

Saturday

13 June 2020

Second Saturday

Saturday

27 June 2020

Fourth Saturday

July 2020

Saturday

11 July 2020

Second Saturday

Saturday

25 July 2020

Fourth Saturday
Friday
31 July 2020

Bakrid/Eid-al-Adha

August 2020

Monday
03 August 2020

Raksha Bandhan

Saturday

08 August 2020

Second Saturday
Tuesday
11 August 2020

Janmashthami

Saturday

15 August 2020

Independence Day

Saturday

22 August 2020

Fourth Saturday

Sunday

30 August 2020

Muharram

September 2020

Saturday

12 September 2020

Second Saturday

Saturday

26 September 2020

Fourth Saturday

October 2020

Friday
02 October 2020

Gandhi Jayanti

Saturday

10 October 2020

Second Saturday

Saturday

24 October 2020

Fourth Saturday
Monday
26 October 2020

Vijaya Dashami
Friday
30 October 2020

Eid e Milad

Saturday

31 October 2020

Maharishi Valmiki Jayanti

November 2020

Saturday

14 November 2020

Diwali / Second Saturday
Monday
16 November 2020

Bhai Dooj

Saturday

28 November 2020

Fourth Saturday
Monday
30 November 2020

Guru Nanak Jayanti

December 2020

Saturday

12 December 2020

Second Saturday
Friday
25 December 2020

Christmas Day

Saturday

26 December 2020

Fourth Saturday
Thursday
24 December 2020

Christmas Eve
Friday
25 December 2020

Christmas
Thursday
31 December 2020

New Year's Eve
Types of Bank Holidays 2020:
Bank holidays are days when banks are closed to the public and operations are closed for transactions at bank branches. However, you can perform some online transactions such as transfers, payments, etc. while you can continue to withdraw cash at ATMs. Below are the two types of bank holidays:
National Holidays: During the calendar year, three national holidays are observed by India and banks remain closed on these national holidays. Below are the three national holidays observed in the country:

Republic Day
Independence Day
Mahatma Gandhi Jayanti

Government Holidays: Central and respective state governments notify a list of government holidays for the calendar year. During these holidays, government offices are closed to the public. Government holidays are classified as:

Gazetted Holidays
Restricted Holidays
Bank Holidays on the Second and Fourth Saturdays:
As mandated by the Reserve Bank of India (RBI), commercial, scheduled, non-scheduled, co-operative and regional rural banks will remain closed to the public on the second and third Saturdays of every month. Fifth Saturdays are working days on a given month. The notification was effective from 1 September 2015. Prior to the notification, banks worked half-day on Saturdays.
Some Important Bank Holidays in 2020:
Here are some of the important bank holidays observed in 2020:
Uttarayan/Makar Sankranti/Pongal: It's the period of harvest and is celebrated in the month of January of the Gregorian calendar. The holiday marks the end of winter and the beginning of longer days.
Republic Day: On 26 January 1949, the Constitution of India came into effect in the country with a democratic government system. Citizens of India mark 26th of every January as Republic Day with ceremonial parades, award distribution, etc. in tribute to the country.
Maha Shivaratri: The Hindu festival is celebrated in honour of Lord Shiva in remembrance of overcoming darkness and ignorance.
Holi: Known as the festival of colours, Holi is an ancient Hindu festival marking the start of spring.
Ugadi: Celebrated in Karnataka, Andhra Pradesh and Telangana, Ugadi is observed on the first day of the month of Chaitra of the Hindu lunar calendar.
Raksha Bandhan: On this day, sisters tie a rakhi around the wrist of their brothers, highlighting the bond between brothers and sisters.
Ram Navami: Hindus celebrate Ram Navami marking the birth of Lord Ram which falls on the ninth day of the month of Chaitra in the Hindu calendar.
Mahaveer Jayanti: One of the most important festivals of Jains, Mahaveer Jayanti celebrates the birth of Mahaveer.
Janmashtami: Celebrating the birth of Krishna, Janmashtami is celebrated across India by Hindus with great devotion and fervour.
Good Friday: Christians observe Good Friday as the commemoration of the death of Jesus Christ. Prayers, sermons and, praise and worship is observed by the followers of Christ.
Ganesh Chaturthi: Marking the birth of elephant-headed God, Ganesh Chaturthi is celebrated for prosperity and wisdom.
Vaisakhi: Also known as Baisakhi is a religious festival celebrated by Hindus and Sikhs commemorating the formation of Khalsa Panth under Guru Gobind Singh.
May Day: Usually celebrated on the 1st of May every year, May Day commemorates the struggles and gains made by the labour class of the society and is observed in several countries across the globe.
Onam: Malayalees across the country and the world celebrate Onam marking the homecoming of King Mahabali and it's also the festival of harvest.
Sant Guru Kabir Jayanti: The event is observed in honour of Sant Kabir Das, a renowned poet, saint and social reformer in India.
Maharana Pratap Jayanti: The event celebrates the popular King from the 16th century in Rajasthan who fought the Mughals in the country.
Bakrid/Eid-Al-Adha: Considered as the holiest event in the Islamic religion, Bakrid or the festival of sacrifice, which honours the act of obedience to God by Ibrahim to sacrifice his son.
Independence Day: Celebrated on the 15th of August every year, Independence Day commemorates the freedom from British rule in India. This is also one of three national holidays observed in the country.
Gandhi Jayanti: One of the most important national holidays of India is the Gandhi Jayanti, celebrating the birth of Mohandas Karamchand Gandhi, the Father of the Nation.
Diwali: Diwali is also known as Deepavali, Divali or Deepawali, the festivals of lights celebrate the victory of good over evil.
Christmas: Christians across the world celebrate the 25th of December as Christmas marking the birth of Lord Jesus Christ.
How State Holidays and Bank Holidays are Determined?
While state holidays are based on local events or festivals, bank holidays are based on national holidays as well as respective state holidays and festivals. Each state will determine the public holidays which the banks may or may not share depending on the local linguistic and religious demographics.
Significance of Bank Holidays in 2020:
Public Sector Undertaking (PSU) and scheduled banks in India observe exclusive bank holidays on the 2nd and 4th Saturdays of every month. The Reserve Bank of India (RBI) has mandated that banks will not operate on these Saturdays; however, through online or net banking facility, several banking transactions such as money transfers, bill payments, etc. are available at all times to customers. The main significance of bank holidays is to provide a work-life balance to bank employees and provides the dates when bank customers will not be able to transact at any of the bank branches.
Will NEFT and RTGS Work During Bank Holidays?
Presently, the National Electronic Fund Transfer (NEFT) and the Real-Time Gross Settlement (RTGS) is available between 8 am to 7 pm on working days; however, there is a proposal to make it available to customers 24/7. Hence, both the payment options are not available on non-working days of the bank. However, the timings may differ from bank to bank.
How to Deposit Cash During a Bank Holiday in India?
While the traditional method of depositing cash in the respective bank branch is still prevalent, the advent of ATM has made it easier for customers to deposit cash at the respective bank's ATM. You can deposit cash during a bank holiday in India at the bank's ATM.
---
Public and Private Sector Banks to Remain Shut for 13 Days in March 2020
– March 3, 2020
Out of the 31 days in March 2020, banks in India will remain shut for 13 days. These bank holidays include national, regional and weekly holidays. While some banks will be closed on 10 March 2020 on account of Holi, some may remain shut for two days to celebrate Holi. There will be eight national holidays and five regional holidays during the month of March this year. Regional holidays include Gudi Padwa or Ugadi in some of the southern and western states, and in Jharkhand, banks will be closed on account of Sarhul.
---
---
Read informative General Insurance Articles at Acko.
Having a vehicle insurance policy helps protect against damages to your vehicle under various circumstances. Stay upto date with the latest Car Insurance Articles and Two Wheeler Insurance Articles here.
Read all our insurance & non insurance related articles here.