The era of digitization has disrupted every sector in the country. Be it e-commerce or governmental services, digital transactions are here to stay and will strive to make it easier for the common man. Holding a physical document such as a Driving Licence (DL) at all times may be cumbersome and the probability of losing it is much more. The government of India has made it easier for commuters to carry their DL in an electronic form. In this article, we learn how to link your driving licence to DigiLocker and its benefits.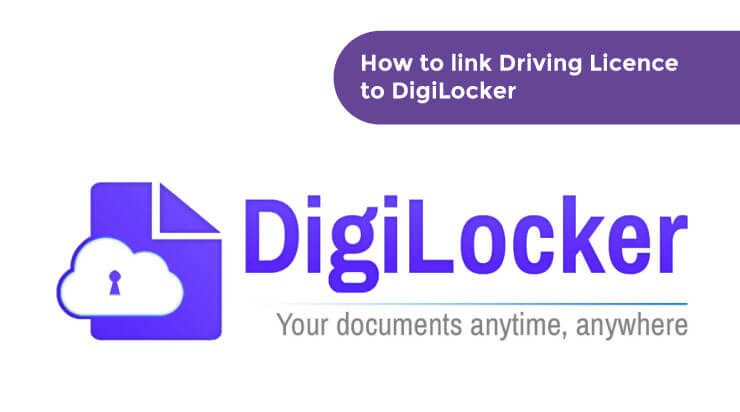 Steps to Link Your Driving Licence to DigiLocker:
Before we know about the steps to link your DL with DigiLocker, let's understand more about storage application. Under the Digital India initiative, the Central government introduced 'DigiLocker' mobile app. This app lets you store official documents on a cloud and removes the need to carry physical documents at all times. Upon registration of your profile, you receive 1 GB of storage space to store official documents.
DigiLocker can be accessed through its website or you can download and install the mobile app on your smartphone.
Below are the steps to link your driving licence to DigiLocker:
Step 1: Visit DigiLocker website – https://digilocker.gov.in/ or download the mobile app from PlayStore if you are an Android user and iOS if you are an Apple phone user.
Step 2: Sign-in or sign up with a username and password if you have not yet registered (Aadhaar number is a mandatory requirement to sign up for DigiLocker account.)
Step 3: On the left of the home page of the DigiLocker, select 'Issued Documents'.
Step 4: On the new page, click on 'Get Issued Documents'.
Step 5: On this page, under the 'Central Government' menu, select 'Ministry of Road Transport and Highways'.
Step 6: Now select 'Driving Licence'.
Step 7: On the new page, your name and date of birth will be automatically populated by DigiLocker. Enter your driving licence number (Format: KA0419920009646), select the checkbox to provide consent that you are willing to share your Aadhaar details.
Step 8: Click on 'Get Document'.
The DigiLocker system will automatically export your DL from the database and saves it in your DigiLocker.
Steps by Step Procedure to Upload Documents on DigiLocker:
Below are the steps to upload documents on DigiLocker:
Step 1: Visit the official DigiLocker website – https://digilocker.gov.in/.
Step 2: Log in with your username and password.
Step 3: Upon successful login, click on the top right corner under your profile to select 'Uploaded Documents'.
Step 4: On the new page, you can either choose 'Documents' or 'My Certificates' folders to store your documents.
Step 5: Click on the 'Upload'.
Step 6: A pop-up window will open to select the document from your local drive or network. Select the document that you want to upload.
Step 7: You have the option to save the document in different formats, choose the format and click on 'Save'.
Also, read: How to Apply for a Smart Card Driving License
Benefits of Adding Your Driving Licence on DigiLocker:
With DigiLocker you can take advantage of several benefits of the digital documents storage mobile app. Here are a few of them:
No need to carry a physical copy of your Driving Licence or other official documents such as DL, Aadhaar, PAN, Voter's ID, etc.
Similar to the physical Driving Licence, authorities can use the QR code available in the DigiLocker to verify your profile, especially while applying for a Voter ID or PAN.
Your DL number is available at all times.
Step by Step Guide on How to Use DigiLocker:
DigiLocker is aimed at digitising official documents so that it can be accessible and available at all times to the user. Here is a guide on how to use DigiLocker:
Step 1: Visit the official website of DigiLocker or click here https://digilocker.gov.in/.
Step 2: Sign up and register your profile with a username and password.
Step 3: You will receive a One-Time Password (OTP) to your registered mobile number. Enter the OTP and select the username and password to secure the mobile app.
Step 4: You will be prompted to choose a four-digit password to access your DigiLocker account. Enter a password of your choice.
Step 5: The next step is to link your Aadhaar with DigiLocker, which is mandatory if you want to use the services of the mobile app. Without the Aadhaar being linked, the app will not allow you to download your documents.
Once your Aadhaar is linked to the DigiLocker account, you can add your Driving Licence, PAN, Vehicle Registration Certificate, Insurance, etc. You can download or upload documents to and from your DigiLocker account.
FAQs
How can I be sure that the digital driving licence is coming from the MoRTH database?
DigiLocker's electronic DL is digitally signed by MoRTH. The document is fetched from the database of the National Register on a real-time basis. And, for the record, a timestamp is registered while the document is fetched from the database.
Is the digital driving licence authentic and legally valid?
The digital DL in DigiLocker is legally valid under the Indian IT Act 2000.
Is my name important while fetching my digital driving licence through DigiLocker?
While fetching the MoRTH digital records, your name in the driving licence in the National Register and your Aadhaar should match to ensure that the rightful owner is able to fetch the documents.
I am unable to fetch my driving licence as it says that there are no records of my DL. What should I do?
The Ministry of Road Transport and Highways (MoRTH) maintains a central database of driving licence of citizens which is known as the National Register. This register is integrated with DigiLocker app. If your driving licence is not found in the National Register, you may have to visit the RTO to know the next procedure to register your DL.
I'm unable to link my Aadhaar details with the DigiLocker and an error appears stating that my Aadhaar is already registered in DigiLocker. What should I do?
If your Aadhaar is already registered with DigiLocker, then you may be trying to create a new DigiLocker account with a different mobile number. Retrieve your username and password using the option provided while signing in.
---
Read informative Driving License articles at Acko.
Having a vehicle insurance policy helps protect against damages to your vehicle under various circumstances. Stay upto date with the latest Car Insurance Articles and Two Wheeler Insurance Articles here.
Read all our insurance & non insurance related articles here.