Summary of Key Terms & Conditions
This summary of key terms under the Group Domestic Travel Product Policy Terms & Conditions ("Policy") is offered by Acko General Insurance Limited ("Acko") to ANI Technologies Private Limited ("Ola"). Covers under the Policy can be availed by registered users/ customers on the Ola mobile application ("Ola App")) by selecting the option of ride insurance.
The insurance cover under the Policy will apply only to Ola trips which are booked through the Ola App. Insurance cover starts when customer's Ola trip starts and cover ends when the Ola trip ends, up to a maximum period of 1 day for City Taxi, and 10 days for Ola Outstation.
Key Benefits:
Key benefits available under the Policy for the named rider and co-passengers travelling with the named rider on the same trip:
| Benefits | Coverage upto | City Taxi | Rentals | Outstation |
| --- | --- | --- | --- | --- |
| Accidental Medical Expense | Rs. 1,00,000 | Yes | Yes | Yes |
| Hospital Daily Allowance (Max 7 days) | Rs. 500/day | Yes | Yes | Yes |
| OPD Treatment | Rs. 3,000 | Yes | Yes | Yes |
| Ambulance & Emergency Evacuation | Rs. 10,000 | Yes | Yes | Yes |
| Accidental Death | Rs. 5,00,000 | Yes | Yes | Rs. 7,50,000 |
| Permanent Total Disability | Rs. 5,00,000 | Yes | Yes | Rs. 7,50,000 |
| Permanent Partial Disability | Rs. 5,00,000 | Yes | Yes | Rs. 7,50,000 |
| Repatriation of Mortal Remains | Rs. 10,000 | Yes | Yes | Yes |
| Missed Flight (Domestic)* | Rs. 5,000 | Yes | No | Yes |
| Loss of Baggage, Personal Effects & Laptop | Rs. 20,000 | No | No | Yes |
| Emergency Hotel Requirement | Rs. 10,000 | No | No | Yes |
| Home Insurance Content | Rs. 1,00,000 | No | No | Yes |
*Missed Flight cover starts when the customer books the Ola Trip and ends when the Ola trip ends, subject to the estimated time of arrival (ETA) at the airport of departure being before 60 mins of the scheduled departure time for City Taxi (other than Ola Share) and 90 mins before the scheduled departure time for Ola Share and Ola Outstation. This Benefit only covers domestic flights. Missed flight cover can be claimed only if the destination is specified as airport at the time of booking a ride. If the destination is changed to airport during the ride, 'missed flight claims' is not admissible.
City Taxi: All Ola rides which ply within city limits including Ola Auto & Ola Share.
General Conditions:
Customer opting for Insurance, the Insurance will not be applicable for bookings made from certain Partner Platforms or Ola Point. Partner Platforms are platforms where customers can book Ola rides.
E.g. of Partner Platform include but are not limited to Tapzo, Google Maps, etc.
The claim will not be permissible in case the number of passengers (including driver) is more than the seating capacity of the vehicle.
Loss of Baggage and Home Insurance does not cover any Valuables, Money, Securities, Jewellery, Tickets and Electronic items (other than Laptop). It covers only for the loss of the items and not partial damage.
The claim will not be permissible in case of Wilful Act, , Self-inflicted injury, Mental Illness, Drug or Alcohol abuse which leads to injury to self.
The policy does not cover any contractual and consequential liability, except as covered in the Policy or this summary.
The following general exclusions as stated in the Policy will not apply to Ola or its customers:
Any change of profession after inception of the Policy which results in the enhancement of the risk under the Policy, if not accepted and endorsed by Acko on the insurance certificate or insurance.
Any event arising from or caused due to use, abuse or a consequence or influence of an abuse of any substance, intoxicant, drug, alcohol or hallucinogen.
Any journey commenced to obtain medical care, treatment or advice of any kind whether this is the sole purpose of customers journey or not.
Claim & Documents:
Rider can file a claim for any of these coverages on Ola App, Ola Website, Acko Mobile App or Acko Website. Or reach to Ola or Acko Contact number for registration of claim.
Rider needs to submit following documents in case of a claim:
Hospital bills and discharge summary in case of medical treatments.
Respective certificates in case of death or disability.
FIR in case of loss of baggage or loss under home insurance.
Missed flight confirmation from airline carrier in case of missed flight.
Hotel Bills in case of Emergency Stay.
Claim Process on the Ola App:
Choose the ride from 'Your Rides' for which you wish to raise a claim.
Tap 'Support' from the bottom bar.
Tap 'Claim Insurance for this ride' from the list of the issues.
On next screen, tap on 'Claim Insurance' to create a claim.
On the Acko website: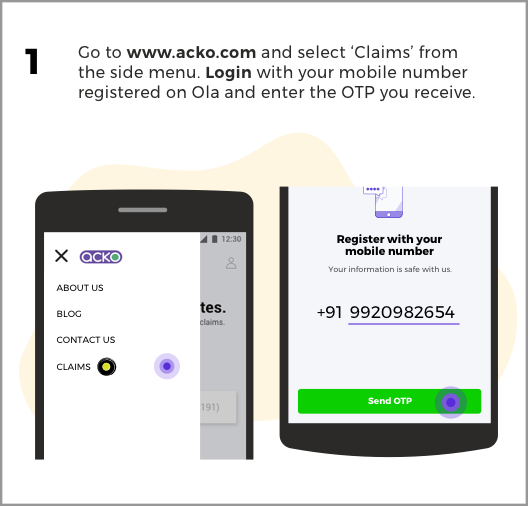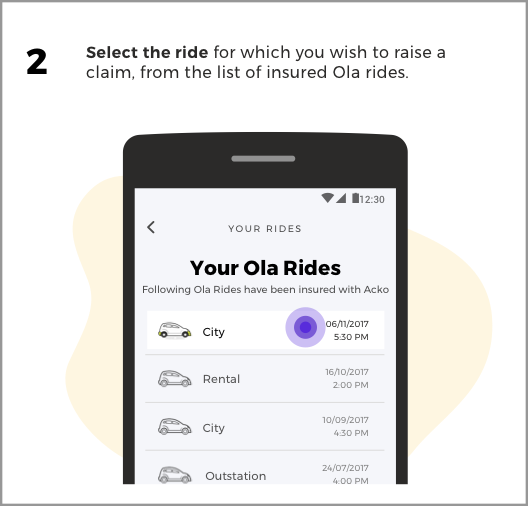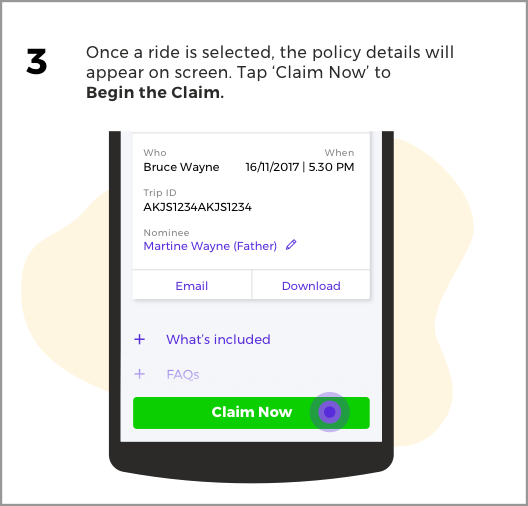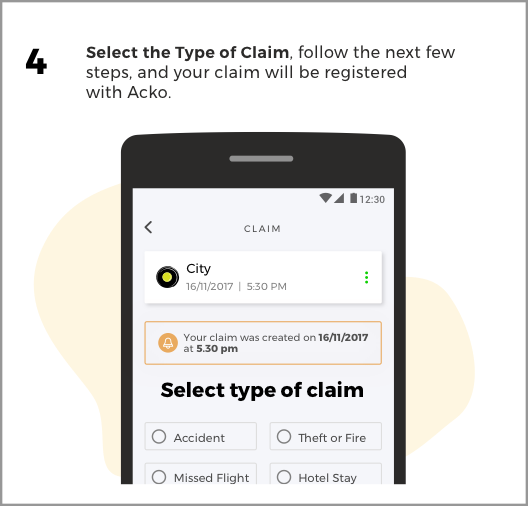 Please note that this is only a basic description of the key terms. Once you have opted for cover, you will receive a Certificate of Insurance from Acko which will contain complete details of your cover under the Policy.