Ola—one of the world's largest ride-sharing companies, integrates transportation for customers and driver-partners on a mobile technology platform ensuring convenient and quick services. It thrives on digital innovation and has always endeavoured to delight its customers with services that add value to their journey. To advance these aims, Ola needed an insurance product for its passengers to protect them from eventualities (such as accidents, loss of baggage) beyond their control, for the duration of their ride.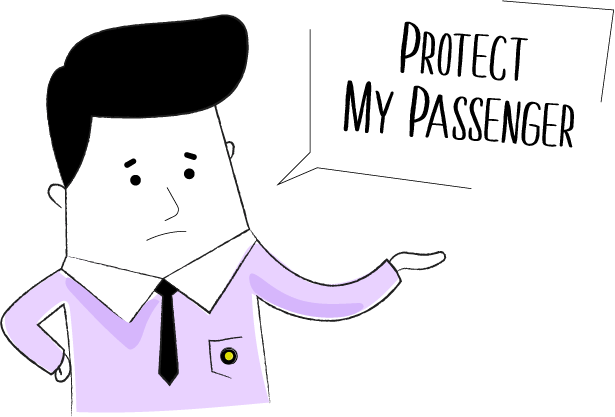 Step 1: Research
After understanding the requirement, we started with the research. Social media scouring and consumer surveys indicated that there were many prevalent problems among cab users. The common ones included:
Drivers being reckless and unheeding to requests
People missing appointments & flights due to driver's negligence
Worry about thefts & burglaries when travelling out of station
Concerns of baggage loss, injuries etc.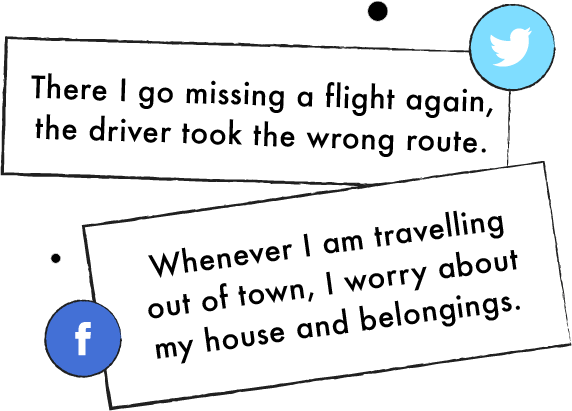 Step 2: Laying the foundation
The research indicated that cab riders needed an insurance cover, but a regular product would not address their concerns. The insurance product needed to be as simple as booking an Ola ride and therefore we set some product principles before crafting it.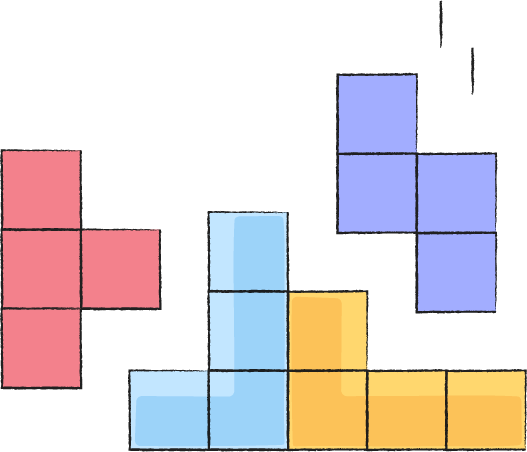 Principle 1
Apt Coverages
An insurance without relevant coverages is like a soldier without a shield, therefore it was imperative to create a product that would be pertinent to the needs of the consumers.
Principle 2
Minimal T&Cs
Insurance products generally involve convoluted clauses that confuse customers, and make claim-filing impossible. We decided to eliminate these surplus stipulations and create a product that's easy to understand and file a claim against.
Principle 3
Effortless filing of a claim
Registering a claim successfully can be extremely excruciating in the world of insurance, so, we were determined to create a simple and speedy journey from claim initiation to document submission.
Principle 4
Great user-experience on app
An interface with effortless navigation was identified as a crucial part of this product. So, to further simplify a user's journey, we decided to design an interface with elements that would be easy to access, understand, and facilitate desired actions.
Principle 5
Glitch-free tech
A robust, error-free and never-let-you-down system was adjudged to be the backbone of this product.
Like is the case with every ambitious product, this one presented us with a unique set of challenges. Starting with—
Price
We had no price yardstick for this completely novel product.
Benchmark
The industry-first product had no role model to look up to. We had to craft it sans references.
Tech Architecture
Its creation required a robust tech structure that could support and issue millions of policies every day.
Partner Alignment
The flawless integration of two entirely different technology stacks posed as another great challenge towards the beginning.
99.99% Up-time
To abide by Product Principle No. 5 we needed a remarkably high up time, and achieving it seemed like an uphill task since exceptionally large volumes were anticipated.
Minimizing Ops
To stick to product principle no. 3, we needed to minimise operation time, which in turn required automated claim processes that could support high volumes.
Step 3: Overcoming the challenges
Price
Pricing had to strike plenty of right chords, and our underwriting team ensured it did just that. An accessible premium of Re. 1 was set for passengers availing city rides, and it entailed a cover that included major risks and more.
Benchmark
Since a similar product was unavailable and there was a dearth of data to assist the formulation of this unique proposition, we referred to annual accident covers and extrapolated the information culled from Ola statistics like annual deaths, accidents and injuries recorded during trips. The missed flight cover added more data to the set, and we had to consider the time of cab arrival, weather conditions, traffic jam frequencies and other factors to create this insurance.
Tech Architecture
The tech team stepped up to the challenge and created a sturdy and scalable architecture that could support the issuance of millions of policies every day. While setting up the tech we focussed on optimising our code and algorithms to make sure that the API gives very low response time. The low response time was required to decrease the booking time for customer.
Partner Alignment
Although aligning the tech of two different entities was a mammoth of a task, teams from both organisations worked in tandem to ensure its flawless execution. We co-ordinated with Ola's product, tech, QA and business teams regularly to sync the processes and identify critical problems beforehand. Close coordination was crucial to measure the metrics and ensure there were no hiccups in integration of APIs.
99.99% Up-time
We had to maintain an exemplary uptime which meant every request had to be processed in less than 30 milliseconds. The architecture was designed to fulfil this need. This was imperative as the increase in booking time would have resulted in customer drop-off. Achieving a low response time helped us improve the customer journey.
Minimizing Ops
The establishment of a sturdy tech foundation resulted in the achievement of this gargantuan goal. An automated and streamlined claims process which could be initiated from the Ola app and where proofs could be uploaded digitally, meant minimum operational effort was put to use.
A significant number of hit and trials, and some setbacks later, we devised a product that imbibed all our principles and enabled Ola customers to insure their rides directly via the Ola app. The insurance included a comprehensive cover for risks that were never accounted for before.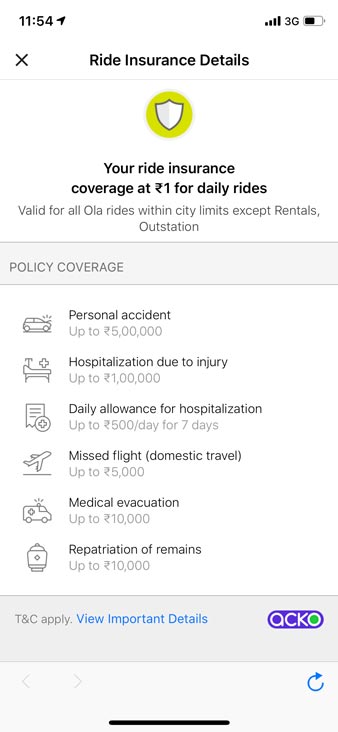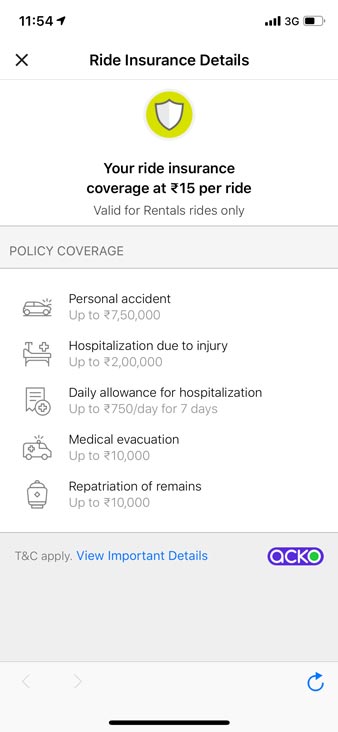 Filing a claim on the Ola app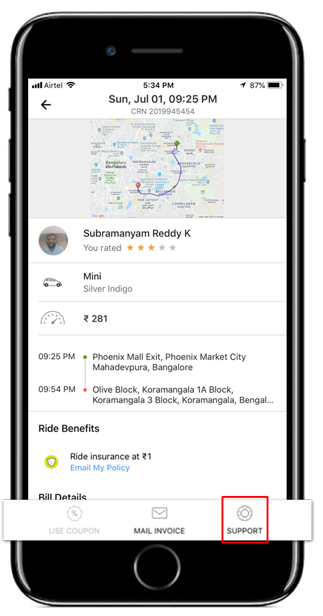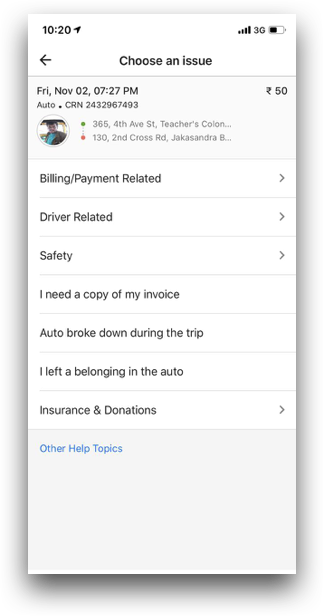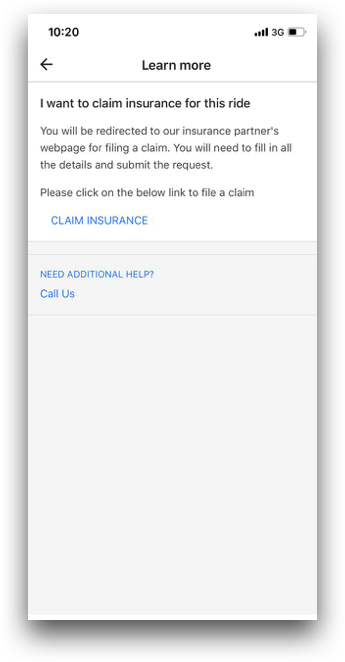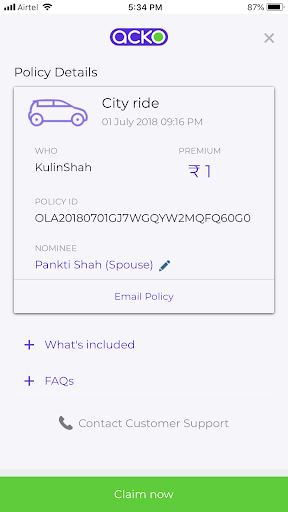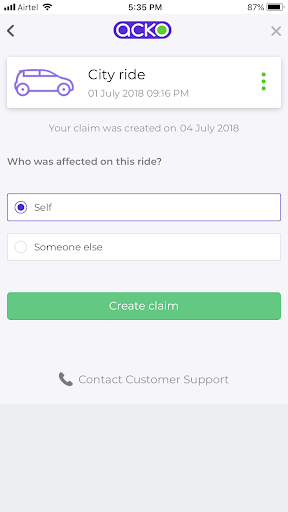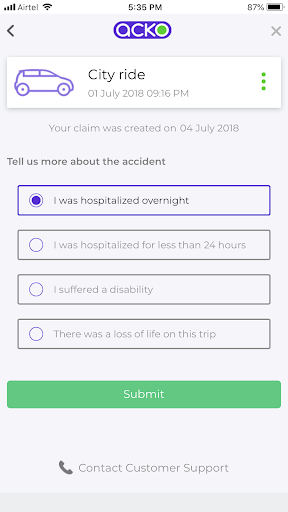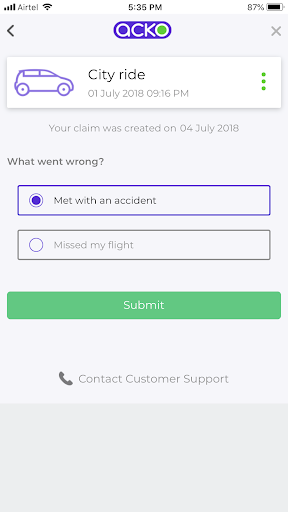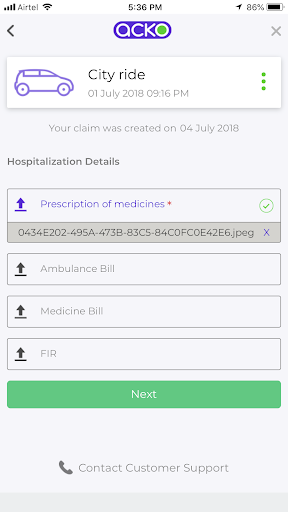 Filing on Web
Filing a claim on acko.com
Claim filing takes less than a minute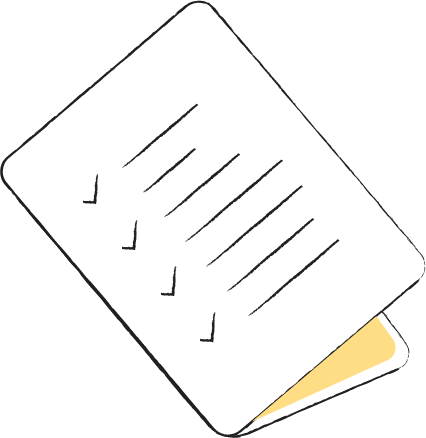 We successfully created a seamless and digitally-inclined insurance that helped Ola customers travel with the security of an insurance without having to go through the hassles that accompany conventional insurance. The opt in numbers for the insurance indicated that Ola customers were happy to have their rides Acko insured. The insurance product serviced their needs impeccably, leading to issuance of more than 250 million policies in just 9 months.
| Attachment | Policies issued | Claim settlement time | Uptime |
| --- | --- | --- | --- |
| High | 250 million+ | 48-72 business hours | 99.99% |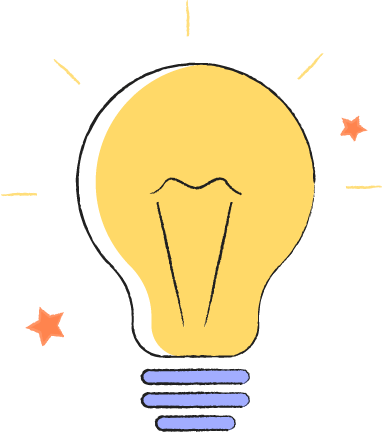 200 million rides insured and counting
20 million unique users insured
3 minutes to register claims
99 percent API success rate
Collateral Happiness
After successfully creating a product that was a hit with the consumers, we extrapolated the learnings to develop other products that would be equally helpful to cab riders.
Missed Flight Cover –
An innovative cover for Ola airport rides that gives a benefit cover of up to Rs. 10000, in case customers miss their flight.
Ola Corporate –
A passenger insurance cover for rides booked through an Ola corporate account
Ola Passenger Carrying Vehicle (insurance) –
An auto insurance policy for Ola drivers that insures their car.
The team that made it happen
"My experience with Acko was a delight. My claim request was handled professionally and I received the claim payout on time. Keep it up Acko!"
Mr. Winston Dhanraj –
Claimed OPD for Ola
"Super glad that I took the missed flight insurance, since I ended up missing the flight. Acko was quick in settling the claim; it took just 2 days. Also thankful to Ola for providing this service."
Mr. Ankur Tamkoria –
Claimed Missed Flight for Ola