Driving a car on a free highway can be a liberating experience. Car enthusiasts love long rides to unwind. However, one big factor that hinders this car riding experience is traffic and roadblocks. And on highways, roadblocks are caused by toll plazas, which can lead to a traffic jam, ultimately increasing your travel time and burning of fuel. This is where an Axis bank FASTag can help you out.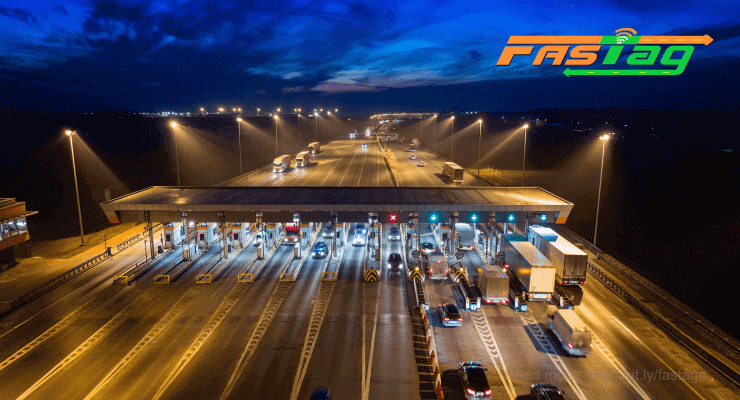 With the help of an Axis FASTag, you can zoom-past toll plazas. This is because FASTag makes use of a technology that enables payment of the toll without stopping at a toll plaza. Your car can simply pass through the toll plaza and a cashless toll payment will be initiated thanks to Radio-frequency Identification Technology (RFID).
You need to place an active FASTag on your four-wheeler's windscreen. When your vehicle passes through the toll plaza, this FASTag will be scanned. The toll amount will be deducted from your Axis bank account, which is linked with the Axis FASTag. Such FASTags can be purchased offline from bank branches as well as online from the website.
Here's a list of agencies that are associated with promoting the use of FASTags in India.
Ministry of Road Transport and Highways
National Highways Authority of India
Indian Highways Management Company Limited
National Payments Corporation of India
Axis FAStag Online Application Process:
Just as you can buy car insurance online, you can also buy Axis FASTag online.
Steps to apply for a FASTag through Axis Bank:
Step 1 – Visit axisbank.com
Step 2 – Click on Explore Products tab and select FASTag
Step 3 – Click on Get a free FASTag Now button
Step 4 – Fill the form with demographic details and vehicle information.
Step 5 – Make payment
Step 6 – Receive FASTag via doorstep delivery
Axis FASTag Offline Application Process:
If you are not comfortable buying a FASTag online, you can do so offline as well. You can visit your nearest Axis bank's branch and ask for a FASTag. You can also purchase the same from toll booths. Make sure to show the vehicle's registration certificate and Know Your Customer (KYC) documents while purchasing FASTag offline.
Fees and Charges:
Here's a list of fees and charges applicable for Axis FASTag.
Issuance Fee:
This is the fee taken at the time of issuance of the FASTag. As of January 2020, issuance fees for Axis FASTags are not applicable.
Security Deposit:
This is a one-time amount that you must pay as a deposit. This amount is refundable at the time of closure. The security deposit for Axis FASTag is Rs. 200.
Corresponding Charges:
These are the expenses made for Axis bank FASTag recharge.
Reissuance Charges:
If the FASTag is damaged, you will need to reissue it. The charges applicable for reissuing a FASTag are termed as Reissuance Fees. Reissuance Charges for Axis FASTag are Rs. 100.
Threshold Amount:
A FASTag must have a minimum amount in the wallet. This minimum amount is referred to as the Threshold Amount. This amount is different for different vehicles. Here's a table showing different vehicles as per their class and the respective threshold amount.
| | | |
| --- | --- | --- |
| Vehicle Class | Vehicle Class Description | Threshold Amount |
| 4 | Car / Jeep / Van | 160 |
| 4 | Tata Ace and Similar mini Light Commercial Vehicle | 160 |
| 5 | Light commercial vehicle 2-axle/ MiniBus | 250 |
| 6 | Bus 3-axle | 500 |
| 6 | Truck 3-axle | 500 |
| 7 | Bus 2-axle / Mini-Bus | 350 |
| 7 | Truck 2-axle | 350 |
| 12 | Tractor / Tractor with trailer | 550 |
| 12 | Truck 4-axle | 550 |
| 12 | Truck 5-axle | 550 |
| 12 | Truck 6-axle | 550 |
| 15 | Truck 7-axle and above | 650 |
| 16 | Earth Moving / Heavy Construction Machine | 550 |
FASTag Registration:
Once you receive the tag, you need to proceed to the Axis Bank FASTag Registration process. You are required to register your tag and generate a password for access. You can then proceed to Axis Bank FASTag Login to check balance and raise issues if any.
Steps to Register FASTag online:
Here are the steps to register your FASTag online.
Step 1 – Click and login to the link shared by the FASTag issuing authority.
Step 2 – Select Register New User.
Step 3 – Mention basic personal and vehicle details.
Step 4 – Follow the OTP verification process.
You can access your account using your customer/wallet ID post-registration.
Documents Required for FASTag:
Here's a list of documents required to buy a FASTag.
Vehicle's registration certificate
Application form for Axis bank FASTag
Axis FASTag Online Recharge:
Here's how you can go for Axis bank FASTag recharge online.
Step 1 – Visit here.
Step 2 – Select Retail Road Users
Step 3 – Proceed to Road User Centre
Step 4 – Select Payment
Step 5 – Recharge
You can also go for Axis FASTag recharge using Internet/Mobile Banking or by using the Axis bank's auto-debit facility.
Benefits of FASTag:
Listed below are the major benefits of purchasing FASTag.
Save time:
Breeze through toll plazas without waiting. This way you will save a lot of travel time and reach your destination a lot quicker than usual.
Save Fuel:
Waiting in queues can burn a lot of fuel. Avoid the queues with a FASTag. Less travel time in your journey will result in less fuel consumption.
Track Expenses:
You will be alerted on your registered mobile number about the amount debited from your account when you pass through a toll booth. This way, you can keep a track of your toll expenses easily.
Online Enabled:
You can not just buy a FASTag online, you can recharge it online as well. You have the option to link the FASTag to your bank account or wallet for online recharge.
Hassle-free Process:
You simply must stick the FASTag on your car's windshield and just pass through the toll plaza. Can it get easier than this?
Also, read: Free FASTag
List of Axis Bank Active Toll Plazas:
Here's a list of Axis Bank's active toll plazas – link
Axis Bank FASTag Offers:
You can get a cashback of 2.5% on toll payments with Axis Bank FASTags.
Customer Care for Axis Bank FASTag:
Here's how you can reach the customer support team.
Frequently Asked Questions:
Is it possible to purchase a FASTag for my motorcycle?
As of January 2020, it is not possible to purchase a FASTag for a motorcycle. You can purchase it for a four-wheeler.
What needs to be done in case I am selling my car with an affixed FASTag?
Make sure to remove and tear-up the FASTag before selling your vehicle.
I own multiple cars. Do I need to buy FASTags for all of them?
Yes, you will need to buy multiple FASTags for multiple cars.
How will I come to know the amount that has been debited from my FASTag account?
You will be notified with an SMS every time the toll charges are deducted from your FASTag account. You can also log in to your Axis Bank FASTag account to check the same.
What happens if my account is debited incorrectly?
You can share your grievances with your bank's customer support team and get the issue resolved. Here's the Axis Bank FASTag customer care number: 18004198585
Can I perform an Axis Bank FASTag recharge using NEFT?
Yes, you can go for Axis Bank FASTag recharge using NEFT.
What to do in case I want to block my FASTag account?
You can block your FASTag account by getting in touch with your bank's customer support team.
Do FASTags have a validity period?
Yes, FASTags have a validity period of five years.