The Regional Transport Offices (RTO) are an important part of India's transport regulatory system. RTOs are responsible for ensuring that the rules and regulations under the Motor Vehicle Act are implemented correctly, and offering driver and vehicle-related services. Similarly, RTO Offices in Guntur also offer services such as granting Learner's Licences (LL), conducting driving tests and issuing Driving Licences (LL), registering vehicles and issuing Registration Certificates ( RC), testing vehicles and granting Fitness Certificates (FC), granting permits, collecting road tax and much more. This article will help you to know all the details of the Guntur RTO office along with the contact details, helpline number, fees and functions.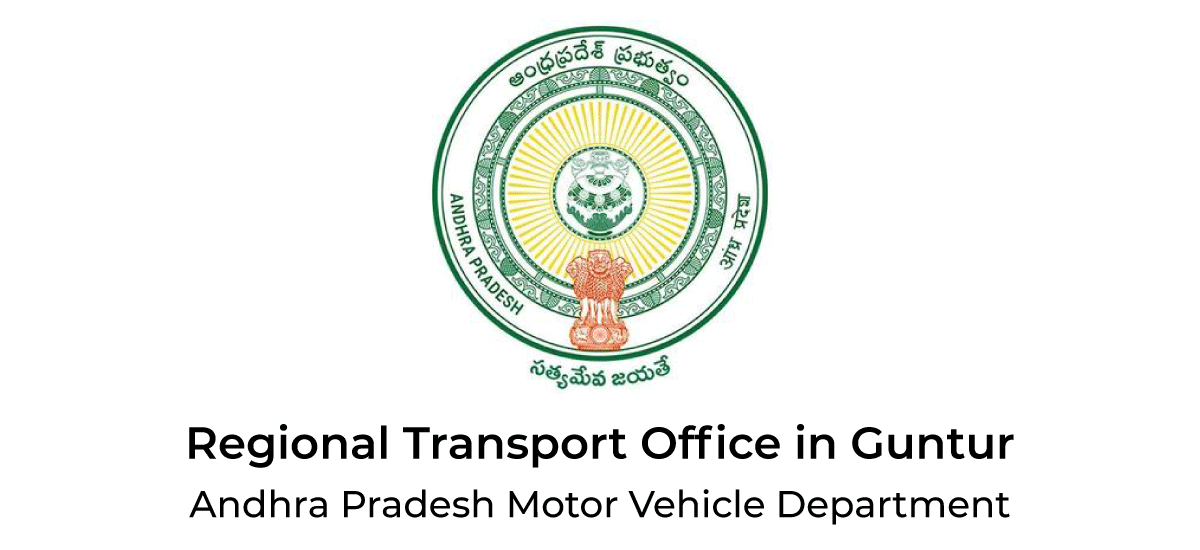 Guntur RTO Code: Office Address & Contact Number
RTO Guntur is one of the offices of the transport department in Andhra Pradesh. Guntur is also a city and administrative headquarters of Guntur District. Each RTO in the country is denoted by a unique code depending on the state and jurisdictions. Here, the code for Guntur RTO is AP-07, where 'AP' stands for Andhra Pradesh and 07 is the jurisdiction code of Guntur. For this reason, all vehicles registered in Guntur will display AP-07 code on the registration number plate.
In the below table you can find RTO Guntur office address, helpline numbers, email address and other contact details:
Guntur RTO, Andhra Pradesh AP-07 – Contact Number:
| | |
| --- | --- |
| Guntur RTO Code | AP-07 |
| RTO State | Andhra Pradesh |
| Office Name | DTC, Guntur |
| RTO Address | JKC College Road,Swarna Bharati Nagar,Guntur, Andhra Pradesh – 522006 |
| Helpline Number | 863-2355194 |
| RTO Officer Contact Number | – |
| Email ID | [email protected] |
| Office Timing | 10:30AM To 5:30PM |
RTO Fees in Guntur:
The charges for the RTO services depend on the nature of service or task. Guntur RTO office provides all vehicle and driver-related services. Apart from that, the Guntur RTO also collects road tax, issues permits and conducts tests for LL and DL. Vehicle testing is also done at the RTO Guntur. Refer the table below for fee details at Guntur RTO office:
Driving Licence Fees
The below table denotes the driving licence fees in Guntur:
| Service | Fees |
| --- | --- |
| Grant of Learner's Licence (LL) | Rs. 150 |
| Grant or Renewal of Driving Licence (DL) | Rs. 200 |
| Test or Retest for LL | Rs. 50 |
| Test or Retest for DL | Rs. 300 |
| Issuance of International Driving Licence | Rs. 1,000 |
| Addition of new vehicle class to DL | Rs. 500 |
| Duplicate copy of DL | Rs. 100 |
| Change of address or any other corrections in DL | Rs. 200 |
Guntur RTO Registration Charges
Find the registration charges at Guntur RTO in the blow table:
Class of Vehicle
Issue/Renewal Fees
Temporary Registration
Two-wheeler
Rs. 150
Transport/Medium Passenger Vehicle/Medium Goods Vehicle
Rs. 500
Non-Transport
Rs. 300
Heavy Passenger Vehicle/Heavy Goods Vehicle
Rs. 750
Imported Vehicle
Rs. 2,500
Imported Two-wheeler
Rs. 1,250
Other Vehicles
Rs. 1,500
Permanent Registration
Two-wheeler
Rs.300
Light Motor Vehicle/Three-wheeler/Quadricycle
Non-Transport - Rs. 600
Transport - Rs  1,000
Medium Goods Vehicle/Medium Passenger Vehicle
Rs. 1,000
Heavy Passenger/Goods Vehicle
Rs. 1,500
Imported two-wheeler/motorcycle
Rs. 2,500
Imported Vehicle
Rs. 5,000
Other Vehicles
Rs. 3,000
Transfer of Ownership in RC
50% of Registration Charges
Copy of Registration Certificate
Change of address or details in RC
Authorisation of Hypothecation/Hire Purchase/Lease
Two-wheeler - Rs. 500
LMV/Three-wheeler/Quadricycle - Rs. 1,500
Medium/Heavy Vehicle - 3,000
Fitness Certificate Charges
Refer the below table for Fitness Certificate and vehicle testing charges at Guntur RTO:
Service
Issue/Renewal Fees
Fitness Certificate (FC)
Rs. 200
Vehicle Test for FC
Two-wheeler
With Gear - Rs. 200
Gearless - Rs. 400
Three-wheeler/LMV/Quadricycle
Manual - Rs. 400
Automatic - Rs. 600
Heavy/Medium Vehicle
Manual - Rs. 600
Automatic - Rs 1,000
Issue/Renewal of Letter of Authority
Rs. 15,000
Copy of Letter of Authority
Rs. 7,500
Permit Charges (Transport Vehicles)
Permit-related fees for transport vehicles in Guntur are listed in the following table:
| Permit | Issue/Renewal Fees |
| --- | --- |
| Goods Vehicle (Includes National Permit) | Rs. 1,000 |
| Stage Carriage | Rs. 5,000 |
| Contract Carriage Bus (Includes All India Permit) | Rs. 5,000 |
| Maxi Cab (National Permit) | Rs. 2,000 |
| Motorcycle Taxi | Rs. 200 |
| Autorickshaw | Rs. 500 |
| Educational Institution Bus (Upto 13 seats) | Rs. 2,000 |
| School/College Bus (Over 13 seats) | Rs, 3,000 |
| Temporary Permit for all vehicles | Rs. 200 |
Guntur RTO Performance Standard:
The performance standard refers to the turnaround time for any given task or service. The performance standard at Guntur RTO varies from one service to another. For example, the issuance of Driving Licence might take just one day, and a complicated task such as granting a Fitness Certificate may take up to 1 week. It all depends on the nature of service availed from the Guntur RTO. For the exact turnaround time for different services, kindly contact the RTO Vehicle Inspector at Guntur RTO office.
Also, read: RTO New Vehicle Registration Process
Functions of Guntur RTO:
Typical day-to-day functions of an RTO include conducting LL and DL tests, issuance of LL and DL, testing vehicles for issuing fitness certificates, granting No Objection Certificates, issuance of local and national permits and collecting road tax. Regional Transport Offices in Guntur, Andhra Pradesh also carry out all driver and vehicle-related functions. Apart from that, the Guntur RTO also takes care of the implementation of the rules and regulations stated by the Motor Vehicles Act. Guntur RTO is responsible for the smooth functioning of transport activities within its jurisdiction.
Below, you can find the daily functions of the Guntur RTO office:
Licence Services
Conducting tests for Learners and Driving Licences.
Issue/Renewal of Learner's and Driving Licences.
Addition of a new class of vehicle to the existing DL.
Change of address or correction of details in LL and DL.
Issuance of the duplicate copy of LL and DL.
Registration Services
Registering new vehicles.
Grant and renewal of Certificate of Registration.
Issuance of temporary Registration Certificate.
Change of address or details in RC.
Addition and Termination of Hypothecation in RC.
Other RTO Services
Issuance of Local and National permits.
Granting No Objection Certificate (NOC) and Letter of Authority.
Collecting Road Tax and permit fees.
Implementing traffic rules and regulations in Guntur.
Frequently Asked Questions:
Some of the RTO services and terms related to those services might be a bit complicated. If you are someone who is going to avail these services for the first time, then you will be having some queries. The below common queries related to Guntur RTO services should help you in understanding the services better.
What is the validity of my Driving Licence?
A non-transport vehicle DL is valid for 20 years from the date of issue or till you are 50 years of age. (Whichever occurs first). A transport vehicle DL is valid for 3 years. After the expiry of DL, it has to be renewed every 5 years.
Can I reserve a special number as my vehicle's registration number in Guntur?
Yes, you can reserve a special number for the registration of your vehicle. But you have to shell out some extra fees to get a fancy number. Contact Guntur RTO for fees and other details related to obtaining a special registration number.
Can I add a new vehicle class to my existing DL?
Yes, you can always add a new vehicle class to your current permanent DL. You need to submit the required documents and appear for a driving test.
What are the documents required for renewal of registration in Guntur RTO?
The following documents are required to renew the registration certificate:
Original copy of RC
Valid motor insurance
Pollution Under Control (PUC) certificate
Form 25 (For non-transport vehicles)
Where can I get my vehicle registered temporarily?
You can obtain temporary registration from the dealer while purchasing the vehicle. You can also go to the RTO to get a temporary registration number.
Other Popular RTO Offices in India:
Related Articles:
---
Read informative RTO Articles at Acko.
Having a vehicle insurance policy helps protect against damages to your vehicle under various circumstances. Stay upto date with the latest Car Insurance Articles and Two Wheeler Insurance Articles here.
Read all our insurance & non insurance related articles here.