Car Insurance
A car insurance policy financially covers a car owner against losses arising out of unpredictable events. These events may cause a huge hole in the owner's pocket in case of any damage to the car.
An insurance policy can be compared to saving a sum of money in advance, in case of financial crises arising due to a damaged car. However, buying an auto insurance policy is much more beneficial as compared to saving money for the damages which may occur in the future.
An insurer provides several services if you invest money in getting your car insured. Apart from paying for the damages, your insurer will also offer discounts like No Claim Bonus and services like Cashless Garage or Roadside Assistance. Buying an auto insurance policy for your car being mandatory by The Motor Vehicles Act, 1988, is only one of the reasons why a car owner should buy the policy.
As per The Motor Vehicles Act, 1988 act, driving a vehicle in India without a valid Third-party Liability Insurance Policy is a punishable offense. It is designed to protect the interest of 'third parties', example – pedestrians, that might be injured in case of an accident caused by your vehicle. Apart from Third-party Liability Insurance, you can also purchase a Comprehensive Car Insurance Policy and strengthen it with best Add-ons to cover the risk of financial losses in case of unfortunate events such as accidents, natural calamities, etc.
Let's understand the details of a car insurance policy in India:
How Much Does a Four-wheeler Insurance Policy Cost?
The cost of a car insurance policy depends upon various factors. These factors vary based on the requirements and the model of the car. Roughly, the rates of a four-wheeler insurance policy depend on the following six factors. Let's take a look at these factors:
Value of Your Car
The Type of Car Insurance
Add-on Coverage
Your Car's Age
Extra Security Features
Your Claim History
1. Value of your Car
The price of a car insurance policy in India and the claimable amount depends on the following factors:
Insured Declared Value(IDV)
• Your insurance amount depends on your car's market value. It's called the Insured Declared Value or IDV. You can opt to reduce this amount.
The sum assured is roughly equal to the IDV that the insurance company promises to pay during a claim.
IDV Affects Premium Amount
This can affect your four-wheeler insurance premium amount. The higher the IDV, the higher is your premium.
Parts of your car get depreciated due to wear & tear with time. At the time of a claim, the insurance company takes this into account. Roughly:
Market value – Depreciation = Insurance Pay-out
You can choose the IDV depending on the current market value of your car. You can even opt for a lower amount, but doing so may result in a lower claim amount for your policy. If the damages incurred to your car are more than the IDV, that you declared, you may have to pay the difference from your pocket.
2. The Type of Car Insurance
Not every four-wheeler insurance policy offers the same coverage. It depends on the type of car insurance policy you buy.
There are three main kinds of car insurance policies in India:
1) Third-party Car Insurance
A Third-party Policy is the most basic type of car insurance policy. It covers, the injuries caused to another person and his/her damaged property. This kind of car insurance policy has the lowest premium. As mentioned earlier, buying at least a third-party car insurance policy is mandatory by Indian law.
2) Comprehensive Car Insurance
This policy covers all kinds of damages—to your car, another person's property, and the insured car's owner-driver.
Cause of damages include:
Collision
Theft
Fire
Sabotage
Natural occurrences
Man-made calamities
Since this type of insurance offers greater coverage than a Third-party Insurance, it costs more.
Your basic Comprehensive Car Insurance premium consists of:
Cost of Third-party Cover
Cost of Own Damage Cover
Personal Accident Cover for the owner (Rs. 100)
Goods and Service tax of 18%*
*May change over time.
3) Zero Depreciation/Bumper to Bumper
Zero Depreciation or Bumper to Bumper is an Add-on to a Comprehensive Car Insurance Policy. If you opt for this cover, your insurer will not take depreciation into account at the time of a claim. It has the highest premium as compared to a Third-party Liability and Comprehensive Car Insurance Policy.
Why you need Zero Depreciation/Bumper To Bumper Add-on?
The value of your car decreases with time. This is called depreciation. Your insurance company only pays a portion of the bill as the remaining amount is deducted on the account of depreciation. As per this Add-on, your insurer will pay the maximum payable amount of the whole bill without considering depreciation.
The maximum number of claims allowed with a Zero Depreciation Car Insurance policy is two.
Here's the approximate policy price of a car worth Rs. four lakh with an engine capacity of 1,200cc.
These rates further increase if you buy more  Add-ons.
3. Add-on Coverage
You can increase the protection your four-wheeler insurance offers with the help of Add-ons. The more the Add-ons on your auto insurance policy, the higher the car insurance premium.
The four common Add-ons are:
Engine protection
NCB protection
Invoice Cover
Personal Accident Cover (paid driver or passenger)
4. Your Car's Age
The Insured Declared Value depends on your car's value. However, the value of your car reduces every year. So, the older a car is, the lower is its value. This can lower your premium—and the sum assured.
However, age also makes a car riskier and more susceptible to damages. Car insurance companies often check your car's health while deciding the premium.
5. Extra Security Features
One of the easiest ways to reduce your four-wheeler insurance premium is by installing anti-theft and other security features. This is because insurance companies are in the business of lowering your risk. The lower the risk, the lower is the price of your premium.
6. Your Claim History
Car insurance companies reward good drivers and those who do not claim.
This is done through a 'No Claim Bonus' and is in the form of a discount on your insurance premium. No Claim Bonus reduces your car insurance cost.
Based on the above factors, the rate of your car insurance policy is determined by your insurer. Using the above factors, you can deduce the cost of your four-wheeler insurance policy by using a car insurance premium calculator.
All you need to do is:
Fill in the details of your car,
Select add-ons & services that you need and
Click on get quotes
Questions to ask yourself, before buying a Car Insurance Policy in India:
To get a clear understanding of your needs, you can ask the following questions to yourself. You will thereby identify the right car insurance policy. Consider this as the checklist to follow, before buying a car insurance policy:
What is the manufacturing year of my car? (To determine the age of the car)
Which type of car insurance policy do I need? (To determine the scope of coverage)
What's my priority: lower premium today or lower bills in the future? (To determine the amount of Insured Declared Value of the car)
How to Buy a Four-wheeler Insurance Policy from Acko General Insurance?
Here's how you buy insurance in 4 simple steps.
Step 1:
Get your car's details—manufacturing date, engine and model specifications, the registration number of your car, and market value.
Step 2:
Next, you can check the IDV of the model of your car online. Your aim is to select a policy with minimum premium yet maximum coverage. Choosing the correct IDV will help you achieve this goal.
Step 3:
Login to your account on acko.com and select a policy which best suits your requirements. You also have the option of choosing multiple Add-ons, to enhance the scope of your policy.
Step 4:
Fill out the application form and pay the premium.  Go through the inclusions and exclusions of the policy for a smooth claim process in the future.
Why You Should Compare Car Insurance Policies Online?
You should compare car insurance policies to ensure that you purchase the best policy as per your requirements. There are several insurance policies offered by different brands, however, only you know which policy is most-suited for you. Also, comparing car insurance policies will give you insights regarding features, benefits and services provided by insurance providers, and help you make an informed decision.You should compare insurance policies to get the best value for your money, that is for getting maximum coverage.
And, here's what makes your deal the best: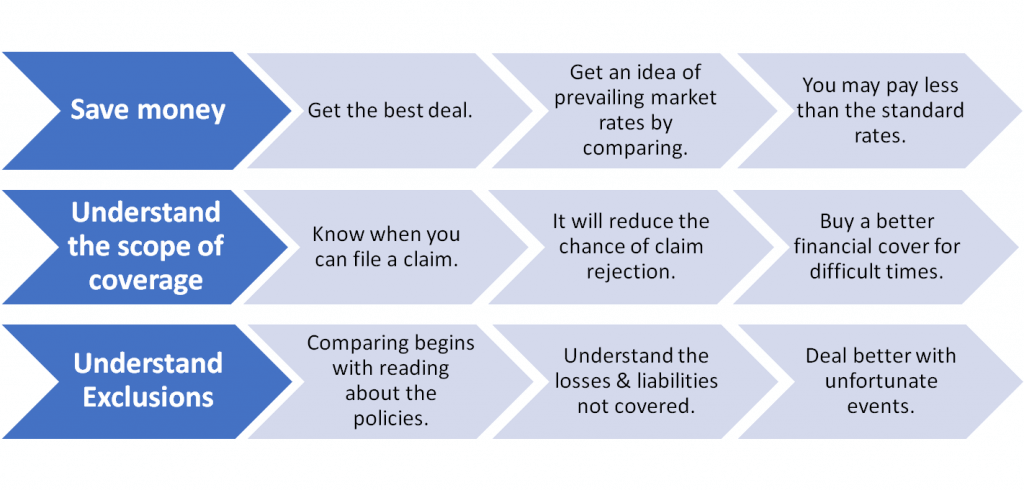 Whom to Buy Auto Insurance From?
You have four options —an agent, dealer, broker, or the insurance company directly. Here's what they offer:
But, wait! Don't rush right away!
Why You Should Renew Your Car Insurance Policy?
It is important to not only get your car insured for the first time, but the renewal of an expired policy on time is also equally important. Here is why you should renew your expired car insurance policy regularly:
Renewal is necessary to get protection against any financial loss in case of events such as car accidents or theft.
To retain your No-Claim Bonus (NCB) because you will lose the benefit of NCB after a delay of 90 days. This means no discount on the premium amount even if you didn't make any claim in the preceding policy year.
To avoid policy rejection or loading (a fine or penalty)
To get protection against any legal issues
If your policy has expired, then you need to buy a brand-new policy. In this case, you will lose the No Claim Bonus discount (if applicable) and your car will be inspected all over again.
By renewing your expired policy in a timely manner, you can save time to get the renewed policy instantly rather than fixing an appointment with the company's surveyor for vehicle inspections, in case you have crossed the expiry date.
How to Renew Your Car Insurance Online with Acko General Insurance?
Step 1: Choose the Policy:
Acko General Insurance offers cheap policies and a wide range of best Add-on covers to customize it as per your requirements. You need to select the policy, from the official website, which suits you the best.
Types of Policies offered for renewal are:
Third-party
Comprehensive (Third-party Liability + Own Damage)
Zero Depreciation (Comprehensive + Zero Depreciation Add-on cover)
In addition, you can opt for multiple Add-on covers along with Comprehensive or Zero Depreciation type of policies.
Step 2: Fill up the form and Payment
The next step is to fill up the form.
You will need the following information while filling in your details:
Car Make and Model details
Registration details
Car Number
City and RTO's Address
Contact Information
Previous Policy and Claim History
Once the form is filled with the required and appropriate information, click on 'check out' for making the payment. When the payment has been confirmed on the website, you will receive your insurance policy in your inbox within minutes.
What Are the Inclusions and Exclusions of Car Insurance Policy?
Every insurance company will have guidelines under which a policyholder can file a claim. These guidelines are the Inclusions and Exclusions of the policy. Here are the Inclusions and Exclusions based on the type of Car Insurance Policy for a private vehicle.
Apart from these, one cannot file a claim under the following situations:
Damage when driving under the influence of alcohol or intoxicating drugs
Damage during war and similar conditions
Damage when policy is not active
Regular servicing and expenses due to wear and tear
Damage when driving without a valid license
Driving a car that you do not own
When neither your driver nor you drove the car
Items stolen from your car
Which Are the Terms Related to Auto Insurance?
Add-ons: These are extra services and coverage you ask voluntarily for your policy. They push up your premium but also add extra coverage. Thus, it is important to choose the best-suited Add-ons for you.
IDV: Insured Declared Value (IDV) is the market value of your car. It lowers over time due to depreciation
No Claim Bonus (NCB): Insurers reward you when you do not make a claim. Every consecutive no-claim year gets you a bonus or premium discount called 'No-Claim Bonus'.
Zero Depreciation: Ensure that your insurer pays you the whole value of your car without deducting any depreciation through a Zero Depreciation cover.
Deductible: You pay a small portion of the bill, say Rs 1,000. It's called a Deductible. You can voluntarily increase this to lower premiums. But, at the time of claim, you will have to pay the increased deductible amount from your pocket.
Coverage: The coverage and services offered vary across different insurance policies.
Frequently Asked Questions
Q) How and where do I start with car insurance?
Here's your handy starter kit:
Buying a car insurance policy, for your private vehicle, is not only a legal requirement but also a savior in the time of need. It is important to understand the basics of car insurance to buy the best as well as cheap policy.
Chalk out your specific requirements, this will help you choose the correct type of auto insurance policy.
Try to allot some of your time in researching the facts and myths about car insurance. Incomplete information may lead to disappointment.
After researching on the best yet cheap car insurance policy, compare quotes offered by various insurers.
Buy Add-ons as per your requirements. Do not go overboard with number of Add-ons as they increase the premium amount.
Once you buy your policy, go through the documents thoroughly. If you have any doubt or if you do not understand any statement, feel free to get in touch with your insurer.
Understand the process of claim, claim settlement, inclusions, and more importantly, the exclusions of a car insurance policy.
Q) Which insurance to get when?
Here are the types of best-suited car insurance policies you may opt for depending on your needs.
Q) Which car insurance coverage do I need?
We have divided the factors in the following manner:
Must-haves:
Third-party Cover: Let your insurance take care of damages caused to a third-party. It is mandatory by law and comes at a cheap cost.
Own-damage Cover: Your insurer will pay for the cost of repairs for your damaged car.
Theft and Fire Protection: You don't have to worry about losing your car worth lakhs of rupees.
Coverage for Damage from Flood and Earthquakes: Essential since some Indian cities are susceptible to floods, landslides, and earthquakes
Personal Accident Owner-Driver Cover: You don't have to worry about the cost of treating injuries after an accident
Advisable:
Personal Accident Paid Driver Cover: If you have a driver, then you may need this Add-on
Zero Depreciation: This ensures your insurer pays the whole bill payment including depreciation
Doorstep Claim Service: You don't need to line up in queues to claim when times are already tough
Engine Protection: Getting your damaged engine repaired
NCB Protection: To protect your No Claim Bonus even if you make a claim in an active policy year
Return to Invoice Cover: To get compensated as much as the invoice value of your car, in case it was completely damaged.
Pick Up and Drop Service: For when you need your car repaired after an accident.
Q) What are the factors on which car insurance premium depends?
Car insurance premium depends on the following factors:
Greater the coverage, higher the premium.
More services offered, higher the premium.
Car value. Costlier the car, higher the premium.
Car age. Older the car, lower the premium.
Claim history. Greater the claims, higher the premium
Q) How do I reduce my car insurance premium? Any tips to reduce car insurance premium?
If you are looking out for tips to reduce car insurance premium, read ahead and save those bucks. The following tips will help you to choose the best-suited policy for your needs in an economical manner.
Consider lowering your Insured Declared Value (IDV): Lowering the Insured Declared Value leads to a lower premium. However, remember, this means you will be allowed to claim a lower amount when your car is damaged beyond repairs.
Get only what you want: Not everything is covered, some services are optional. Your premium will depend on the type of policy you choose and the Add-ons you opt for.
Increase your Deductible: You pay a minimum amount of every bill, say Rs 1,000. It's mandatory. But, you can raise this amount. Your premiums will then decrease.
Don't claim for every small expense: If it's just a matter of a few thousand, consider paying it from your pocket. You can then get a No Claim Bonus (NCB) and lower your premium by nearly 50%.
Renew your policy on time: You have a month after the policy lapses, for renewal. After that, you need to buy a brand-new policy. You lose your NCB and might have to pay a higher premium, for this default.
Get your details right: The premium may change with age, occupation and even car's mileage. So, give all the details and you may enjoy a discount on your premium.
Install security devices: Cars with better braking, lock and anti-theft features attract a lower premium. You may want to consider installing these.
Join AAI: The Automobile Association of India offers a discount on own-damage cover premium to its members.
Q) What to do after I buy?
Here is a list for your reference:
Q) How do I make a claim?
The process of applying for a claim and claim settlement is very easy.
Step 1: Immediately after the damage, note down the date and time. Also, take pictures of the damage.
Step 2: Call your insurance company, or get in touch through the website.
Step 3: A survey will be arranged for reviewing the damages.
Step 4: You can then take the car for repairs.
Step 5: If the garage is part of the insurance company's network, then your repairs will be cashless.
Q) What is cashless car insurance?
Cashless car insurance is a facility provided to the insured by the insurance company wherein the insured does not have to pay money to the garage for repairing the damaged vehicle. Insurance companies have tie-ups with garages and the expenses incurred to repair the insured vehicle are adjusted between the insurance company and the garage as per the terms and conditions mentioned in the agreement.
Q) Can I transfer my No Claim Bonus while selling a used car?
Yes, while selling a used car, you can transfer your No Claim Bonus (NCB). NCB is a discount on the premium of your old car insurance policy as a reward of your safe driving. To transfer your NCB, you need to submit the NCB retention letter to your new or old insurer.
It is important for the buyer of a used car to get the insurance policy in his name, without this the buyer will not be able to file a claim, against the old policy in case of mishaps.
---