Automobile engineers have been developing and marketing hybrid vehicles since the late 1800s; however, due to the higher cost involved in producing it on a massive scale, its popularity in the market still remains low. But car manufacturers continue to research and develop newer hybrid technology to comply with strict emissions norms. But, what is a hybrid car? Read on to know more about the types and benefits of hybrid cars and the difference between hybrid and electric cars.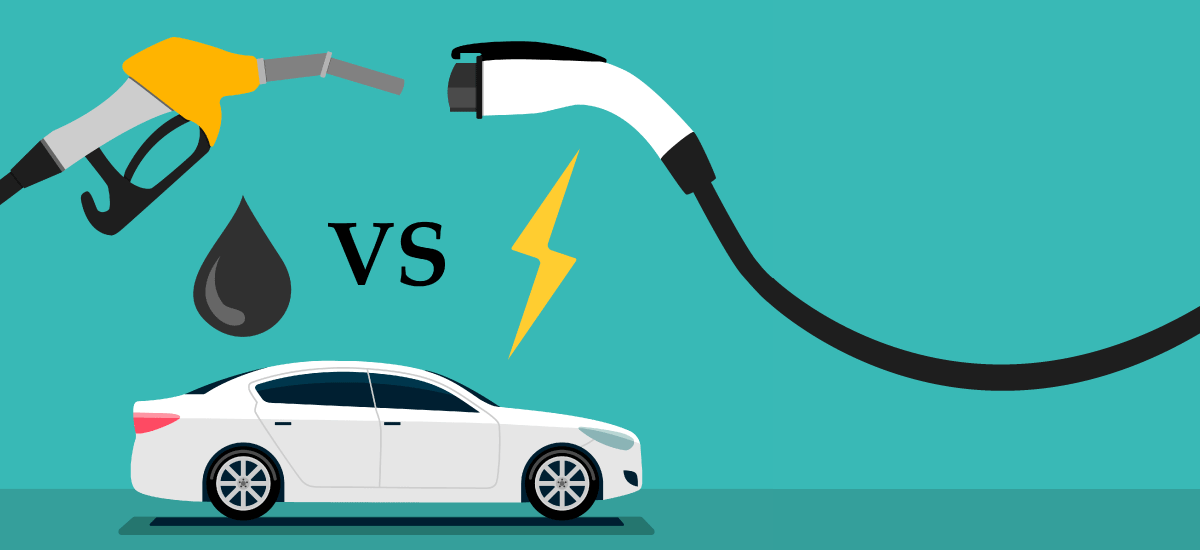 What is a Hybrid Car?
Hybrid cars are powered by two engines: one petrol, one electric. Both work with each other to spin the wheels. This leads to lesser petrol being burned and therefore better fuel efficiency. When compared to conventional vehicles, hybrids offer better power and fuel efficiency as they combine the benefits of high fuel efficiency and low emissions. When hybrid vehicles are cruising or while braking, the result is excess power which is used to charge the batteries. This, in turn, aids higher fuel efficiency or range.
How Do Hybrid Electric Cars Work?
Popularly referred to as hybrid cars, Hybrid Electric Vehicles (HEVs) draw power from an internal combustion engine (petrol engine) and at least one electric motor. Read on to know more about how hybrid electric cars work.
Hybrid Vs. Electric Cars:
The main difference between a hybrid car and an electric car is that the hybrid combines an internal combustion engine and electric motor(s) to send power to its wheels. However, the electric car draws power from a single source of the electric motor(s) to propel the vehicle.
While hybrid cars offer better fuel efficiency or longer distances/ranges, electric vehicles are still yet to reach that potential. That said, electric vehicles pollute lower emissions compared to hybrid cars who are dependent on an internal combustion engine.
Difference Between Hybrid and Electric Cars:
| Specifications | Hybrid Cars | Electric Cars |
| --- | --- | --- |
| Power/Fuel Source | Electricity and Fossil Fuel (Petrol and Diesel) | Electricity Through Battery Pack (DC) |
| Engine | Internal Combustion Engine (ICE) and Electric Motor(s) | Electric Motor(s) |
| Fuel Efficiency | Combination of ICE and Battery Range | Depends on Battery Range |
| Emission Levels | Higher Compared to Electric Cars | Lower Compared to ICE and Hybrid Cars |
| Price Range | Similar to Conventional ICE Cars | High |
| Charging | Not Needed | Needed |
Hybrid Vs. Electric Cars
Also, Read: Electric Car Buying Guide
Key Components of Hybrid Electric Cars:
Below are the main components which help generate power to propel the hybrid car:
Internal Combustion Engine:
In a regular petrol engine, fuel is injected into the internal combustion chamber. Here, fuel mixes with air and is ignited by a spark plug.
Electric Traction Motor:
This motor draws power from the battery pack and sends power to the wheels.
Electric Generator:
This type of motor generates electricity from the regenerating energy while braking, which recharges the battery pack. Some electric generators act as both drive and regenerative functions.
Traction Battery Pack:
The pack stores electricity to power the electric motors and it also recharges through the electric generator.
The internal combustion of the petrol engine continues to remain the primary source of power to the hybrid car. The electric motor derives power from regenerative braking; however, the hybrid's battery pack cannot recharge without the primary petrol engine.
Also, read: Connected Cars: What is it? Features and Benefits
Types of Hybrid Cars:
Automobile companies use different hybrid designs to either achieve maximum fuel efficiency or to keep the hybrid car prices as low as possible. Below are the different types of hybrid cars:
1) Parallel Hybrid:
In the most popular or common hybrid design, the parallel hybrid combines both electric and internal combustion engines to power the vehicle. They can run together or can be used as the primary power source while the other kicks in when extra power is required such as a hill climb, overtake a vehicle, etc. Both power sources are parallelly connected to the gearbox or the transmission and hence they are called "parallel". An example of Parallel Hybrid Cars is the Toyota Camry, Honda Accord, Toyota Prius, Hyundai Sonata, etc.
2) Series Hybrid:
Under this type of hybrid car, the Series Hybrid also employs both the petrol internal combustion engine as well as the electric motor. However, the internal combustion engine does not propel the car, instead it generates electricity to recharge the battery pack. The battery pack in turn powers the electric motor(s) which in turn sends power to the wheels. An example of a Series Hybrid car is the BMW i3, Kia Optima, Ford Fusion, Chevrolet Volt, etc.
3) Plug-in Hybrid:
The Plug-in Hybrid elevates the conventional hybrid car with a much larger battery pack that requires to be charged. Generally, it uses a 110-volt electrical socket to charge the battery pack similar to an electric car. Since the Plug-in Hybrid car does depend on an internal combustion engine and can be run after it is fully charged, there is substantial improvement in the vehicle's fuel efficiency. An example of a plug-in hybrid car is the BMW 330e, Hyundai Ioniq Plug-in Hybrid, Volvo XC40 Recharge Plug-in Hybrid, etc.
4) Two-Mode Hybrid:
This type of hybrid design operates in two different ways. While on the first mode, it works just like a regular hybrid card. In the second mode, the design can adjust to different requirements by the engine to meet specific vehicle tasks.
5) Mild-Hybrid:
In recent times, the cost to build an efficient hybrid car continues to be high. Car companies are devising new strategies in offering hybrid technology to the common man. Mild-hybrid designs have been adopted by car companies to adhere to emission norms as well as to slightly improve fuel efficiency without increasing the cost considerably. In this type of hybrid, the electric motor assists the petrol engine in increasing fuel efficiency, improving performance or both. Additionally, it acts as a starter for the automatic start/stop function, which switches off the engine when the vehicle comes to rest and thereby reduces the use of fuel. An example of mild-hybrid cars include Maruti Suzuki Ertiga, Ciaz, Baleno, etc.
Also, read: Difference between BSIV & BSVI Engine
List of Hybrid Cars:
Below is the list of hybrid cars that are popular in the world:
Toyota Prius
Ford Fusion Hybrid
Toyota Camry
Honda Accord
Hyundai Ioniq
Toyota Corolla
BMW i8
Honda CR-Z
Kia Optima
Hyundai Sonata
List of Upcoming Hybrid Cars in India 2020:
Below is the list of upcoming hybrid cars in India in 2020:
Hyundai Ioniq


Expected Price: Rs.20 lakh
Expected Launch: End of 2020


Nissan Leaf

Expected Price: Rs.30 lakh
Expected Launch: Early 2021


BMW i8


Expected Price: Rs.3 crore
Expected Launch: Late 2020


Volvo XC60 Plug-in Hybrid


Expected Price: Rs.90 crore
Expected Launch: Early 2021


BMW i3


Expected Price: Rs.1 crore
Expected Launch: Mid-2021
List of Cheapest Hybrid Cars:
Below is the list of cheapest hybrid cars available in the global market:
Toyota Corolla
Hyundai Ioniq
Toyota Prius
Kia Niro
Hyundai Ioniq Plug-in Hybrid
Toyota C-HR
List of Hybrid Cars in India 2020:
Toyota Camry
MG Hector
Honda Accord
Toyota Vellfire
BMW 7 Series
Toyota Prius
Volvo XC90
Lexus LC
Lexus RS
Lexus NX
List of Mild-Hybrid Cars in India:
Below is the list of mild or smart hybrid cars in India which do not use the electric motor to propel the car but aid in saving fuel:
Maruti Suzuki Ertiga
Maruti Suzuki Ciaz
Maruti Suzuki Baleno
Toyota Glanza
Also, read: Different Types of Cars in India – Car Body Types
Advantages and Disadvantages of Hybrid Cars:
Hybrid cars may be a stepping stone before the automobile industry moves into pure electric vehicles. So, understanding the pros and cons of hybrid cars will help you understand the technology.
Pros of Hybrid Cars:
Cleaner Emission: Compared to the internal combustion engine, hybrid cars employ both electric and internal combustion engines. The result is reduction in emissions and is environmentally friendly.

Less Fuel Dependency: With an electric motor to support the primary petrol engine, there is additional power available. Hence, there is less dependency on fossil fuel.

Smaller and Efficient Engine: Since smaller engines don't have to power the hybrid car alone since there is an electric motor. Also, petrol engines used in hybrid cars are smaller in size and comparatively fuel efficient.

Regenerative Braking: Every time the brake is applied in a hybrid vehicle, the electric generator generates electricity and recharges the battery. This eliminates the need to stop the vehicle to charge the battery pack.
Cons of Hybrid Cars:
Lower Performance: Since the main motive is to increase the fuel efficiency or range of the hybrid car, the power or acceleration can lag behind a conventional internal combustion engine car.

Expensive to Buy: Although car companies are trying to bridge the gap in pricing between a conventional vehicle and hybrid, hybrids continue to demand higher costs.

High Maintenance Cost: With several mechanical parts in the cars and with two sets of engines powering the hybrids, the maintenance continues to be on the higher side. Also, not all mechanics are trained to repair a hybrid car.
Frequently Asked Questions About Hybrid Cars:
Below are some of the common questions asked by hybrid electric vehicles:
Are hybrid cars good for long-distance driving?
Compared to an electric vehicle, hybrid cars offer better fuel efficiency or range to travel long distances. However, car companies are working actively to increase the range of an electric car.
Should hybrid cars' batteries be charged?
No. The hybrid car employs regenerative technology while braking to generate electricity and recharge the battery pack without worrying about stopping to charge the batteries. However, plug-in hybrids hold a larger battery pack which requires charging.
How does buying a hybrid car affect your insurance rate?
Be it a conventional, electric or a hybrid vehicle, car insurance acts as a financial protection in case of any unfortunate accident. By opting for the Engine Protect Add-on, you can protect the vehicle, however, this will cost you extra.
How often do we need to replace hybrid batteries?
Most modern hybrids can run between 1.5 lakh miles to 2 lakh miles; however, it depends on the type of brand and model of the hybrid.
Do hybrid cars need oil changes?
Yes, hybrids use conventional internal combustion engines which need oil to run. Hence, oil changes at regular intervals will enhance the car's engine life.
Related Articles: