If you are new to the world of car insurance, you must acquaint yourself with the basics such as compulsory cover and Own Damage car insurance cover at the earliest. Whether you are someone who is looking for a car or someone who owns more than one four-wheeler, you must know that it is compulsory to insure your vehicle. Thus, purchasing car insurance is not an option, it is a compulsion. But you have the option of choosing the type of insurance policy to be purchased and your preferred car insurance company.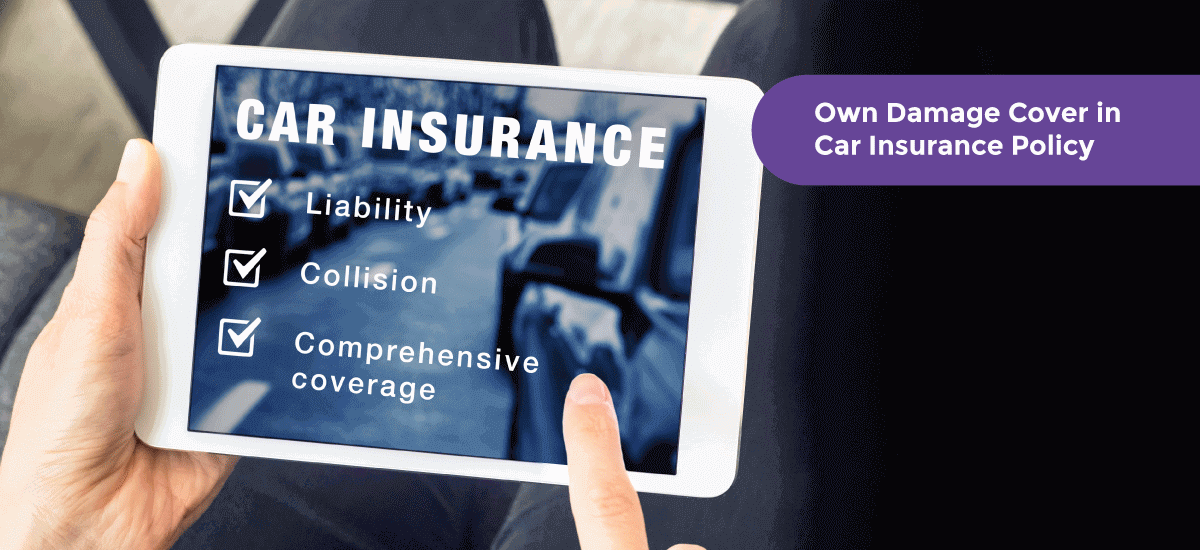 A car insurance policy can be either a third-party or a comprehensive policy. Usually, all car insurance companies in India offer these policies. The coverage and services might slightly differ depending upon the insurer.
What is Own Damage Cover in Car Insurance?
An Own Damage cover is a part of the Comprehensive car insurance policy. It insurers your car against damage. To understand the Own Damage cover in detail you first need to know what do Third-party and Comprehensive policies offer.
Third-party Liability Policy:
The Motor Vehicles Act makes it compulsory for all four-wheeler owners to insure their vehicle. It is compulsory to insure your vehicle with a basic Third-party car insurance policy. As the name suggests, it is meant to insure the owner-driver against financial damages caused to a third person's property or injury to a person.
For example, if you happen to run your car over a person's elaborate garden, squishing imported plants and destroying expensive pots, that person will surely demand compensation from you for damaging his property. This is where your Third-party car insurance policy kicks in and safeguards you from such financial losses.
What's covered?
Third-party death and disability
Third-party property damage
Comprehensive Policy:
While a third-party policy is enough to fulfil legal requirements, it is not enough to insure damages to your car. A Comprehensive plan includes the mandatory Third-party cover as well as offers the Own Damage cover.
This means, if your car is damaged in a car accident, your insurance company will pay for the repairs as per the terms and conditions. A Comprehensive policy also offers an insurance cover against theft, fire, and calamities. Such policies are more expensive than a basic Third-party policy but offer extensive coverage.
Comprehensive Plus Add-on:
If you opt for a Comprehensive car insurance plan, you are eligible for choosing additional covers known as Add-ons. These Add-ons often cover the exclusions of the policy. They come at an extra cost but are essential if you are looking for specific coverage. For example, Passenger Cover Add-on. Note that Add-ons cannot be purchased as a stand-alone insurance product.
Here's a list of popular Add-ons:
Zero Depreciation
Roadside Assistance
No Claim Bonus Protect
Engine Protect
What's Covered in an Own Damage Cover?
Own damage is any kind of damage that is caused to the insured car. The cause of damage can be of multiple types, thus own damage is not limited to accidents. Here is a list of coverages that form a part of the Own Damage cover:
Fire:
Any damage to the insured car caused due to accidental fire is covered under a Comprehensive car insurance policy. Thus, switching to a Comprehensive policy is always recommended.
Damage due to Natural Calamities:
Natural calamities are not that uncommon. In such a situation, buying a Comprehensive car insurance policy is as important as insuring your house and other assets. Damage due to natural calamities like earthquake, flood, cyclone, landslide, hail storm, etc. is covered under car insurance.
Damage due to Man-made Calamities:
There could be a situation of social unrest in an area where you live and it can lead to a man-made calamity. Damage due to riots, vandalism, etc. is also covered under the Own Damage component of a Comprehensive car insurance policy.
Theft:
Theft is a major event that can occur anytime. This is not exactly a kind of damage but will cause a huge financial loss to the owner. Thus, theft is also covered under Own Damage. Remember that theft due to the carelessness of the owner/driver may fail to fetch you a compensation. For example, if you leave the keys in the ignition and wander off leaving your car, it is an open invitation to thieves.
After getting an idea about Own Damage cover, make sure that you carry out a car insurance comparison. It will help you buy the best plan available in the market.
Also, read: Understanding Highway Hypnosis and Ways to Avoid It
Additional Coverage:
Apart from Own Damage, as mentioned earlier, a Comprehensive policy also covers Third-party liabilities. The following coverage is offered under the third-party component aspect of the Comprehensive policy.
Third-party Injuries and Death:
The cost of treating the injuries suffered by a third-party due to an accident is covered. In case of death of the third-party, compensation will be paid to the family of the deceased.
Third-party Property Damage:
Compensation will be paid to the third party for the damage caused to the property due to your car. Third-party property can be a vehicle, house, farm, garden, etc.
Legal Liabilities of the Owner:
Several legal complications can arise from an accident involving the insured car. These liabilities are taken care of by the insurance company if you have an active policy.
Frequently Asked Questions:
Why is it important to compare and buy car insurance online?
Third-party policy's rates are stated by the Insurance Regulatory and Development Authority of India (IRDAI) but the prices of Comprehensive policies and Add-ons vary from one insurer to another. Thus, it is important to compare car insurance online to find an ideal policy. Keep in mind to compare car insurance based on coverage, premium, service quotient and credibility of the insurer.
Why is it necessary to renew car insurance regularly?
Whichever policy you choose, make sure to keep renewing it from time-to-time to keep it active. Do not drive with an expired policy. It is considered to be the same as driving without any insurance. Such an act can leave you vulnerable to legal action and expose you to financial losses in case of an accident.
Another reason for buying a car insurance policy and keeping it active at all times is because doing so is mandatory. In case you fail to do so, you will have to pay hefty fines and/or face imprisonment.
Why should I review my car insurance coverage at the end of the policy period?
It is suggested to review your car insurance coverage at the end of the policy period to analyze what went well and what did not if you had raised a claim. While renewing, you can switch your insurer if you do not like the service provided or choose a company offering low-priced insurance without compromising on the coverage. Keep an eye on digital-first insurers as they offer customer-friendly plans without the hassle of filling forms. Their policies are also economical.
Is it possible to shift from a Third-party cover to an Own Damage cover?
Yes, you can shift from a Third-party Liability car insurance policy to a Comprehensive car insurance policy at the time while renewing it. Not just that, you can pick relevant Add-ons as well while shifting. Also, you can choose a better insurer while making the shift.
---
Read informative Car Insurance Articles at Acko.
Read all our insurance & non insurance related articles here.