There are some aspects that you need to look after if you own a car. For example, you need to drive responsibly, be alert while driving, and buy car insurance. Yes, buying or renewing the insurance policy for your car is an essential component of driving a vehicle in India. Thus, if you are a proud owner of a SsangYong Car, you need SsangYong car insurance for it. The type of policy you purchase is up to you. But you need to insure your vehicle before driving it on Indian roads. Not complying with this mandate can lead to legal issues.
What's Covered in SsangYong Car Insurance (Inclusions)
If you are looking for a Comprehensive Car Insurance Plan for your SsangYong car, it will have the following inclusions. Some points might differ from one insurer to another.
Injuries to third parties.
Property damage of third parties.
Cover against fire, calamities, theft, etc. for the SsangYong car.
What's Not Covered in SsangYong Car Insurance (Exclusions)
The insurance company will not be liable for claim settlement as per the SsangYong Car Insurance Policy for the following exclusions.
Damage due to natural wear and tear.
Non-compliance with traffic rules.
Expired policy.
Expired Driving License.
Consequential losses without relevant add-on.
Benefits of Buying ACKO Car Insurance Policy for your SsangYong Car:
You will enjoy the following benefits by choosing ACKO as your insurance provider for your SsangYong car.
1) Online Car Insurance
ACKO offers online car insurance policies at low premiums. You get enhanced coverage and top-notch services by purchasing or renewing your car insurance policy directly from www.acko.com.
2) Expert Assistance
With easy-to-understand information on the website, explanatory blogs, and prompt query redressal via the Help Centre, ACKO offers expert assistance for all things insurance.
3) Hurdle-free Claim Settlement
Our claim settlement process is smooth and efficient due to our tech-based infrastructure and dedicated claims team. With features like 3-day Repairs and Instant Settlement, your claim settlement process will be hurdle-free.
Insurance Plans for SsangYong Cars
You have the following two options while buying or renewing the car insurance policy for your SsangYong vehicle.
Basic Plan
The Third-party Car Insurance Plan is a Liability Policy and a basic plan. This is compulsory as per the law of the land. The premium for this is low and so is the coverage.
Advanced Plan
A Comprehensive Car Insurance Policy is a better cover for your SsangYong car as it offers enhanced coverage than the basic plan. It not only covers the Liability Policy's inclusions but also offers insurance coverage against fire, theft, calamities, etc.
Add-ons for SsangYong Car Insurance
You can enhance the coverage for your SsangYong's Comprehensive Car Insurance Policy by selecting suitable add-ons. Here's a list of popular add-ons.
Zero Depreciation: Negates depreciation calculation while calculating claim amount leading to higher pay-out.
Roadside Assistance: Insurer offers emergency services such as on-spot repairs and towing for the immobilised vehicle.
Invoice Protection: Insurer offers car's invoice value if it faces a total loss.
Engine Protection: Avail enhanced insurance coverage for the car's engine including consequential losses.
No Claim Bonus (NCB) Protect: NCB stays intact even if you raise a claim.
Claim Procedure
Here's an overview of the claim procedure followed by the majority of the insurers. The exact process can differ.
Step 1: Let the insurance company know about the incident for which you desire to claim against your car insurance policy.
Step 2: Share details either online/offline about you, the policy, and the incident/accident.
Step 3: Cooperate with the assigned claims executive concerning claim settlement.
Step 4: Opt for either the Cashless Claims process or the Reimbursement Claims process
Step 5: Follow the specified process and get the claim settled.
About Car Insurance for SsangYong Car:
You need to buy/renew car insurance for SsangYong motor cars for the following reasons.
Mandatory by law.
Financial assistance while repairing or replacing costly damaged parts.
Avoid penalties and legal hassles.
Prompt services at the time of accidents.
Smooth car-repair process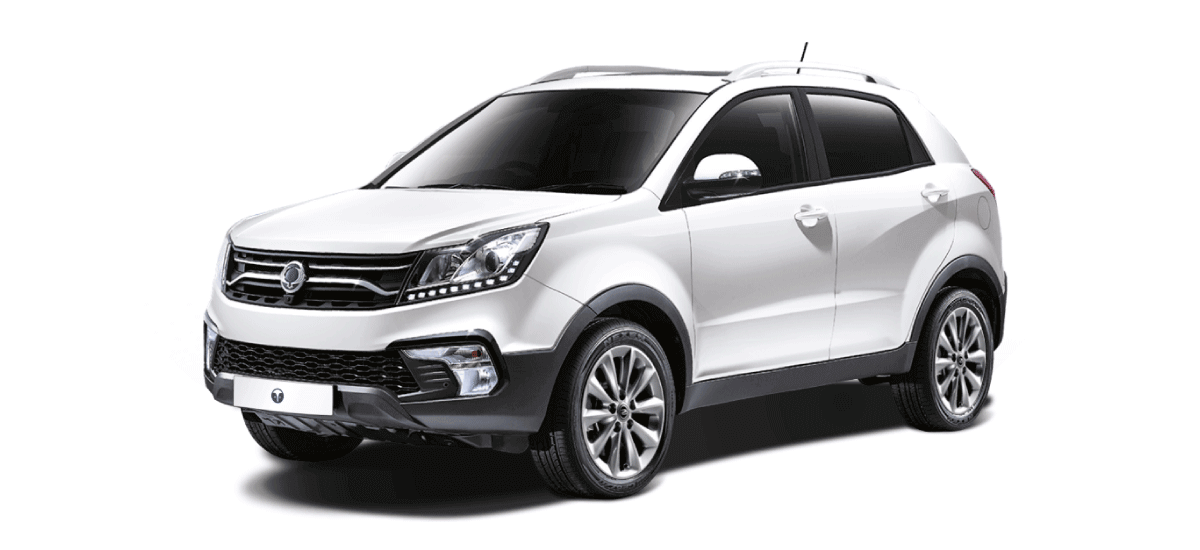 Why should you buy a SsangYong Car?
SsangYong is a Korean brand. Its legacy dates to 1954. After all these decades of dedication towards SsangYong cars, the SsangYong Motor Company is known world over. It focuses on better engineering and design of the vehicles. The brand entered the four-wheel-drive vehicles era in the 1980s. In India, they have partnered with the Mahindra Group. Their offering, the Rexton is a state-of-the-art vehicle designed for superior driving.
You should buy a SsangYong car in India because of the following points.
Modern and elegant look.
Fully automatic climate control.
Posh cabins for a luxurious and comfortable ride.
Technological advantages due to power steering, infotainment system, and cruise control.
Frontal and side airbags, hill descent control, and electronic stability programme for safety.
Exterior Features
Key pointers concerning the exterior of the SsangYong Rexton model.
Fog Lights – Front
Power Antenna
Power Adjustable Exterior Rear View Mirror
Alloy Wheels
Electric Folding Rear View Mirror
Tinted Glass
Rear Window Wiper
Rear Spoiler
Rear Window Washer
Rear Window Defogger
Interior Features
Key pointers concerning the interior of the SsangYong Rexton model.
Tachometer
Electronic Multi-Tripmeter
Fabric Upholstery
Leather Steering Wheel
Glove Compartment
Digital Clock
Specifications of Mahindra SsangYong Rexton (RX5 Diesel)
Engine and Transmission
| | |
| --- | --- |
| Engine Type | RX270 XDi Diesel Engine |
| Displacement (cc) | 2696 |
| Max Power | [email protected] |
| Max Torque | [email protected] |
| No. of cylinder | 5 |
| Valves Per Cylinder | 4 |
| Valve Configuration | DOHC |
| Fuel Supply System | CRDi |
| Turbo Charger | Yes |
| Super Charge | No |
| Transmission Type | Manual |
| Gear Box | 5 Speed |
| Drive Type | 4WD |
Fuel and Performance
| | |
| --- | --- |
| Fuel Type | Diesel |
| Mileage (ARAI) | 12.83 |
| Fuel Tank Capacity (Litres) | 78 |
| Emission Norm Compliance | BS IV |
| Top Speed (Kmph) | 180 |
Other Details
| | |
| --- | --- |
| Front Suspension | Double Wishbone |
| Rear Suspension | 5 Link |
| Shock Absorbers Type | Anti-Roll Bar |
| Steering Type | Power |
| Steering Column | Tilt |
| Steering Gear Type | Rack & Pinion |
| Turning Radius (Metres) | 5.7 meters |
| Front Brake Type | Ventilated Disc |
| Rear Brake Type | Disc |
| Length (mm) | 4755 |
| Width (mm) | 1900 |
| Height (mm) | 1840 |
| Boot Space (Litres) | 475 |
| Seating Capacity | 7 |
| Ground Clearance Unladen (mm) | 208 |
| Wheel Base (mm) | 2835 |
| Kerb Weight (Kg) | 2060 |
| No of Doors | 5 |
Variants and Price of Mahindra SsangYong Rexton (RX5 Diesel)
| Name | Price Rs. |
| --- | --- |
| RX5 (2696 cc, Manual, Diesel, 12.83 kmpl) | 21.04 lakhs |
| RX6 (2696 cc, Manual, Diesel, 12.4 kmpl) | 23.46 lakhs |
| RX7 (2696 cc, Automatic, Diesel, 11.18 kmpl) | 24.84 lakhs |
Benefits of Buying Car Insurance for SsangYong Cars:
You will receive the following benefits by insuring your SsangYong Car with a Comprehensive Plan.
1) Low Expenses
You will not have to spend a huge amount from your pocket to repair damages to your car due to fire, calamities, accidents, etc. The insurer will take care of the repair cost as per the terms and conditions of the policy.
2) Assistance in Case of Liability
If you accidentally injure a third party or somehow their property gets damaged because of the insured vehicle, the insurance company will cover you for the liabilities.
3) Peace of Mind
With a good car insurance company by your side, you do not have to worry about unnecessary repair expenses, managing the entire task of car damages and repairs. The insurance company will help you out with it.
Car Insurance for Ssangyong Car Models/Variants:
Below are the car insurances for Ssangyong Car models in India:
Ssangyong Rexton Car Insurance
Frequently Asked Questions:
Here's a detailed Q and A section to end doubts concerning car insurance for SsangYong car models and variants.
Can I buy a Comprehensive Car Insurance Policy from the Regional Transport Office while registering the vehicle?
The Regional Transport Office does not issue vehicle insurance policies. You will have to purchase a plan from an insurer. For example, you can visit www.acko.com to buy a Comprehensive Car Insurance Plan for your SsangYong Car.
My Comprehensive Car Insurance Policy has expired. And I am not going to use the car for the next four months. Is it okay to renew the plan after four months?
It is suggested to renew your car insurance plan at the earliest. Failing to do so might lead to a premium hike due to resetting of the No Claim Bonus (if applicable) and Car Inspection.
I plan to buy only the Invoice Protection add-on. Is it possible?
The Invoice Protection add-on is not a standalone policy. It is an 'add-on' to a Comprehensive Plan. Thus, it needs to be clubbed with a Comprehensive Plan.
Are Third-party Car Insurance rates fixed or can I get a discount on them?
Third-party Car Insurance rates are fixed. They are declared by the insurance regulatory body. There are no discounts available for it.
What is the meaning of Network Garages?
Insurance companies often settle car insurance claims directly with the garages. Garages with whom insurers have such an agreement are termed as Network Garages.
ACKO Insurance for other Car Brands in India